01.12.2018 | Research | Ausgabe 1/2018 Open Access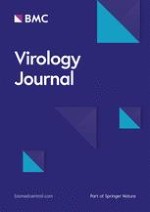 Infection status of human parvovirus B19, cytomegalovirus and herpes simplex Virus-1/2 in women with first-trimester spontaneous abortions in Chongqing, China
Zeitschrift:
Autoren:

Ya-Ling Gao, Zhan Gao, Miao He, Pu Liao
Abstract
Background
Infection with Parvovirus B19 (B19V), Cytomegalovirus (CMV) and Herpes Simplex Virus-1/2 (HSV-1/2) may cause fetal loses including spontaneous abortion, intrauterine fetal death and non-immune hydrops fetalis. Few comprehensive studies have investigated first-trimester spontaneous abortions caused by virus infections in Chongqing, China. Our study intends to investigate the infection of B19V, CMV and HSV-1/2 in first-trimester spontaneous abortions and the corresponding immune response.
Methods
100 abortion patients aged from 17 to 47 years were included in our study. The plasma samples (100) were analyzed qualitatively for specific IgG/IgM for B19V, CMV and HSV-1/2 (Virion\Serion, Germany) according to the manufacturer's recommendations. B19V, CMV and HSV-1/2 DNA were quantification by Real-Time PCR.
Results
No specimens were positive for B19V, CMV, and HSV-1/2 DNA. By serology, 30.0%, 95.0%, 92.0% of patients were positive for B19V, CMV and HSV-1/2 IgG respectively, while 2% and 1% for B19V and HSV-1/2 IgM.
Conclusion
The low rate of virus DNA and a high proportion of CMV and HSV-1/2 IgG for most major of abortion patients in this study suggest that B19V, CMV and HSV-1/2 may not be the common factor leading to the spontaneous abortion of early pregnancy.