01.06.2014 | Original Paper | Ausgabe 6/2014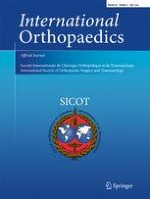 Infectious versus non-infectious loosening of implants: activation of T lymphocytes differentiates between the two entities
Zeitschrift:
Autoren:

Ulrike Dapunt, Thomas Giese, Birgit Prior, Matthias M. Gaida, G. Maria Hänsch
Abstract
Purpose
Loosening of implants occurs mainly for two reasons: bacterial infection of the implant or "aseptic loosening" presumably due to wear particles derived from the implant. To gain further insight into the pathomechanism, we analysed activation of the T cell response in these patients.
Methods
Activation of peripheral T lymphocytes was determined by cytofluorometry as down-regulation of CD28 and up-regulation of CD11b. In addition, tissue samples obtained during surgery were analysed by quantitative RT-PCR for gene expression of CD3, CD14 and cathepsin K, as markers for T cells, monocytes/macrophages or osteoclasts, respectively.
Results
Activated T lymphocytes were detected in patients with infection but not in patients with aseptic loosening. Gene expression of CD3 was significantly enhanced in tissues of patients with infection compared to those with aseptic loosening. Expression of CD14 and of cathepsin K did not differ between the two groups.
Conclusion
Implant-associated infection and aseptic loosening are associated with a local inflammatory response, which eventually results in osteoclastogenesis and bone resorption. Systemic T cell activation, in contrast, occurs only in patients with implant-associated infection, and hence analysis of T cell activation markers could serve as a diagnostic tool to differentiate between the two entities.