01.12.2019 | Review | Ausgabe 1/2019 Open Access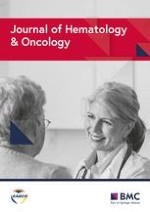 Inflammasome inhibitors: promising therapeutic approaches against cancer
Zeitschrift:
Autoren:

Shengchao Xu, Xizhe Li, Yuanqi Liu, Yu Xia, Ruimin Chang, Chunfang Zhang
Wichtige Hinweise
Publisher's Note
Springer Nature remains neutral with regard to jurisdictional claims in published maps and institutional affiliations.
Abbreviations
ASC
Apoptosis-associated speck-like protein containing a caspase recruitment domain
CARD
Caspase recruitment domain
CRID3
Cytokine release inhibitory drugs
DAMP
Danger-associated molecular pattern
GSTO1
Glutathione S-transferase omega 1
HIN
Hematopoietic interferon-inducible nuclear
ICE
Interleukin 1β converting enzyme
MyD88
Myeloid differentiation factor 88
NACHT
N-terminus and a nucleotide-binding oligomerization domain
NAIP
NLR family, apoptosis inhibitory protein
NLRs
Nucleotide oligomerization domain-like receptors
NOD
Nucleotide oligomerization domain
PAMP
Pathogen-associated molecular pattern
PDAC
Pancreatic ductal adenocarcinoma
STAT
Signal transducers and activators of transcription
Background
Inflammasomes are multimeric proteins that promote immune responses and the programmed cell death process known as pyroptosis by the activation of caspase-1 in response to pathogen-associated molecular patterns (PAMPs) or danger-associated molecular patterns (DAMPs). The inflammasome was first described by the team of Dr. Jürg Tschopp in 2002 [
1
], and this group discovered the features of the inflammasome in cold-associated periodic syndromes, gout and type 2 diabetes in follow-up studies [
2
]. However, emerging evidence indicates that inflammation triggered by viral or microbial infection plays a crucial role in tumorigenesis [
3
]. Inflammation associated with cancer progression is triggered by innate immune cells, including dendritic cells, natural killer (NK) cells, and macrophages [
4
]. Immune cells activated by tumors or tumor components might lead to antitumor immune responses through the recruitment of cytotoxic T cells or the promotion of cancer development by creating a proinflammatory context [
5
]. A key mechanism inducing inflammation in immune cells is orchestrated by the inflammasome. The activation of the inflammasome leads to the production of interleukin 1β (IL-1β) and interleukin 18 (IL-18) and initiates the programmed cell death process known as pyroptosis [
6
]. In view of the correlation between the inflammasome and cancer development, inflammasome inhibitors have drawn worldwide attention in the development of novel approaches for cancer treatment.
Inflammasomes consist of NOD (nucleotide oligomerization domain)-like receptors (NLRs), an apoptosis-associated speck-like protein containing a caspase recruitment domain (ASC) and caspase-1. The NLRs generally comprise a leucine-rich repeat (LRR) at the C-terminus, a caspase recruitment domain (CARD) or pyrin domain (PYD) at the N-terminus, and a nucleotide-binding oligomerization domain (NACHT) in the middle. The LRR domain is a sensor that receives signals from PAMPs and DAMPs, while the CARD or PYD interacts with the PYD domain in ASC [
1
]. Inflammasomes are categorized by their different NLRs such as NLRP1, NLRP3, NLRC4, and AIM2 for identification (Fig.
1
). In comparison with NLRP3, NLRP1 has additional function-to-find domain (FIIND) and CARD domains at the N-terminus, which interact with caspase-5 [
7
]. Inflammasomes lacking a PYD, such as NLRC4, can directly bind with caspase-1 through the C-terminal CARD domain in an ASC-independent manner. However, it remains unclear how ASC interacts with the NLRC4 inflammasome complex [
8
,
9
]. AIM2 consists of a C-terminal HIN domain and an N-terminal PYD, through which AIM2 can recruit ASC and caspase-1 to form the AIM2 inflammasome [
10
].
×
As a key regulator in inflammation, inflammasomes can activate inflammatory cytokines such as IL-1β and IL-18 in response to PAMPs or DAMPs [
11
]. The NLRP1 inflammasome is activated by muramyl dipeptide,
Bacillus anthracis
lethal toxin, and
Toxoplasma gondii
, and the NLRP3 inflammasome can be activated by the combination of mtDNA and cardiolipin. Recognition of NAIP family members induces the activation of the NLRC4 inflammasome, whereas the AIM2 inflammasome can be activated by direct binding with dsDNA via its HIN domain [
12
]. Inflammasome activation induces the production of IL-1β, which has been implicated in metabolic disorders. Studies have shown that IL-1β plays critical roles in type 2 diabetes and gout and that the blockade of IL-1β exhibits high efficacy in clinical trials [
13
,
14
]. Moreover, the inflammasome is increasingly suspected of playing critical roles in autoinflammatory disorders, Alzheimer's disease, and cancer [
15
].
In this review, we summarize the structures and functions of inflammasomes and the signaling pathway that activates inflammasomes, which induce inflammatory cascades. In this regard, multiple drugs that inhibit inflammasomes have been generalized as novel medications against various types of cancer, and some are worthy of further study. Finally, we list some inflammasome inhibitors whose anti-inflammatory activities are well proven. However, their antitumor activities remain to be discovered. Considering the correlation between inflammation and cancer development, these drugs are expected to be innovative therapeutics for cancer treatment.
Inflammasome signaling pathway
Contrasting roles of inflammasomes in cancer
Previous studies have shown that the activated inflammasome plays contrasting roles in cancer promotion and therapy [
32
]. A protective role for the inflammasome has mainly been observed in colitis-associated cancer. Dextran sulfate sodium (DSS) and azoxymethane (AOM) plus DSS mouse models show increases in the incidences of acute and recurrent colitis-associated cancer in mice lacking inflammasome genes, which are correlated with the levels of IL-1β and IL-18 at the tumor site [
33
–
36
]. Moreover, bone marrow reconstitution experiments have demonstrated increased inflammation and tumorigenesis in colitis-associated colon cancer in mice lacking NLRP1 [
37
]. Additionally, caspase-1-deficient mice have enhanced tumorigenesis as a result of increasing colonic epithelial cell proliferation in the early stage of cancer and reducing apoptosis in advanced colon cancer [
38
]. In other malignancies, NLRC4 suppresses the tumor growth of melanoma by stimulating tumor-associated macrophages and generating protective T cells [
39
]. In addition, elevating AIM2 expression by delivering an exogenous AIM2 promotor can significantly inhibit the proliferation and invasion of renal carcinoma [
40
]. Furthermore, the activation of NLRP1 by serine dipeptidases 8 (DPP8) and DPP9 mediates caspase-1-dependent pyroptosis in human acute myeloid leukemia [
41
]. This antitumor activity achieved by inhibiting NLRP1 is also exhibited in chronic myeloid leukemia [
42
].
However, the activation of the inflammasome can also facilitate tumor development. In a mouse model of intravenous injection of B16-F10 melanoma cells, researchers found that mice lacking NLRP3 had a significant decrease in lung metastases compared with wild-type mice and that the pathway was independent of caspase-1 and IL-1β [
43
]. An analysis of tissue-specific knockout mouse strains fully deficient in ASC used in a chemical-induced skin carcinogenesis model showed that ASC affected tumor proliferation in a dichotomous way: it favored tumor growth via a proinflammatory role in infiltrating cells, while it also limited keratinocyte proliferation and thus helped to suppress tumors [
44
]. However, ASC protein expression is repressed in metastatic melanoma compared with primary melanoma, and inflammasome-associated caspase-1 and IL-1β are inhibited when the ASC gene is inhibited in primary and metastatic melanoma cells [
45
]. Moreover, researchers have found that in animal and human breast cancer models, the inflammasome and IL-1β pathway promotes tumor proliferation and migration and that mice lacking inflammasome components exhibit notably suppressed tumor growth and lung metastasis [
46
]. Additionally, among risk factors for breast cancer, obesity has been associated with a poor clinical prognosis. Studies have found that the activation of the obesity-associated NLRC4 inflammasome drives breast cancer progression [
47
]. However, in pancreatic ductal adenocarcinoma, studies have demonstrated that the inhibition or deletion of NLRP3, ASC, or caspase-1 decreases tumor growth and metastasis by reprogramming innate and adaptive immunity in the tumor microenvironment [
48
]. A detrimental role for NLRP3 has also been observed in malignant mesothelioma [
49
]. AIM2, a subtype of inflammasome, was reported to be a cancer suppressor gene in early years. A recent study showed that AIM2 was highly expressed in non-small cell lung cancer (NSCLC) and promoted tumor development in an inflammasome-dependent manner [
50
]. As a molecule downstream of the inflammasome, IL-1β has been demonstrated to promote tumor progression by recruiting myeloid-derived suppressor cells, which might inhibit the antitumor immune response [
51
].
Considering the aforementioned findings, the inflammasome seems to play contrasting roles in cancer development. We hypothesize that different immune responses determine the role of the inflammasome in different types of cancer. In most malignancies, the activation of the inflammasome can lead to either immune surveillance against the tumor or an inflammatory response that promotes cancer development. In colon cancer, the activation of the inflammasome protects the epithelium from cancer invasion. A recent study found that mice deficient in IL-18 and IL-18 receptor but not wild-type mice are highly susceptible to AOM/DSS-induced colon cancer [
52
]. Considering that DSS induces mucosal damage in the intestinal epithelium, IL-18 secreted during inflammasome activation might be able to maintain the homeostasis of the epithelial barrier, which could account for its antitumor activity. On the other hand, this study showed that epithelial-derived IL-18 could directly interact with CD4 T cells, leading to the suppression of Th17 cell differentiation. However, IL-18 receptor is critical in Foxp3 Treg cells, which mediate the reduction in intestinal inflammation [
53
]. These findings suggest that the activation of the inflammasome induces the production of IL-18 and that IL-18 then reduces intestinal inflammation by repressing Th17 cells and elevating Treg function. The reduction in inflammation maintains the homeostasis of the intestinal epithelium, leading to the suppression of colon cancer. Further investigations are warranted to verify this hypothesis. The heterogeneity of the inflammasomes in various cancers suggests that inhibitor application should be tailored to the specific situation.
Antitumor effects of inflammasome inhibitors
As excessive inflammation induced by the inflammasome can be a detrimental factor in multiple types of cancer, inflammasome inhibitors appear to be a promising approach for cancer prevention and treatment. Currently, many drugs and molecules have been shown to regulate inflammasome activity. However, some of them target the noncanonical signaling pathway of the inflammasome or indirectly affect the functions of the inflammasome by targeting other molecules. Here, we have listed the drugs targeting the canonical signaling pathway of the inflammasome and the antagonists most investigated in cancer treatment (Fig.
2
; Table
1
).
Table 1
Studies and clinical trials of inflammasome inhibitors in cancer
Drug

Target

Effective cancer type

Clinical trials

Reference

Thalidomide

Caspase-1

Prostate cancer

Phase II

Multiple myeloma

Phase III

Anakinra

IL-1R

Melanoma

N/A

Breast cancer

Multiple myeloma

Phase II

P2X7R antagonist

P2X7R

Prostate cancer

N/A

Pancreatic ductal adenocarcinoma (PDAC)

Osteosarcoma

Multiple myeloma

Head and neck squamous cell carcinoma

Colorectal cancer

Basal cell carcinoma

Phase I

Parthenolide

NF-κB

Gastric cancer

N/A

Colorectal cancer

Pancreatic adenocarcinoma

Nasopharyngeal carcinoma

Andrographolide

NF-κB

Insulinoma

N/A

Colorectal cancer

Breast cancer

Multiple myeloma

Canakinumab

IL-1β

Lung cancer

Phase III (undergoing)
×
Drugs already used in clinical applications
Thalidomide
Anakinra
Anakinra is a recombinant form of interleukin-1 receptor antagonist (IL-1Ra), which is commonly applied in the treatment of rheumatoid arthritis and autoinflammatory disease [
90
].
Previous studies with myeloma cells have shown that anakinra can significantly reduce IL-6 levels but does not increase myeloma cell death. However, a combination therapy of anakinra and dexamethasone induces cell death in myeloma cells [
91
]. In a study of breast cancer mouse models, anakinra decreased the growth of tumors in the bone and reduced the number of mice with bone metastasis from 90% (placebo) to 40% (treatment) or 10% (preventative). This study indicated that anakinra fails to increase tumor cell death but represses cell proliferation and angiogenesis [
57
]. Melanoma, the most dangerous type of skin cancer, has a poor prognosis. A study found that anakinra increases M1 macrophage polarization and decreases myeloid-derived suppressor cell numbers in mice with melanoma [
56
]. In phase II clinical trials, researchers investigated the roles of anakinra and low-dose dexamethasone in patients with smoldering or indolent multiple myeloma. The results showed that anakinra targets the progressed myeloma fraction in vivo and decreases the proliferation of myeloma cells [
58
]. Then, the antitumor activity of anakinra was mainly mediated by reducing angiogenesis. The administration of anakinra alleviated the levels of CD34-positive blood vessels and significantly reduced the expression of the endothelin 1 gene [
57
]. Moreover, previous studies have shown that IL-1β elevates the expression of VEGF and VEGF represses the activities of IL-1β [
92
,
93
]. The inhibition of IL-1β by anakinra could obviously suppress the activity of VEGF, leading to an antiangiogenic effect.
Anakinra is usually used as a second-line treatment in rheumatoid arthritis, and subcutaneous injection of anakinra has been approved by the US FDA [
94
]. However, the antitumor applications of anakinra await further studies.
Drugs studied in clinical trials
Potential antitumor drugs
Considering the correlation between inflammation and tumorigenesis, it is rational to expect that antagonists that inhibit the initiation of inflammation could be explored as potential antitumor drugs. In the inflammasome signaling pathway, there are many steps that could be targeted, such as the assembly and activation of inflammasomes, the synthesis of IL-1, and the generation of caspase-1. Several inhibitors targeting the above processes hold promise in developing novel drugs against cancer and are described below.
Conclusions
The role of the inflammasome in cancer development has received increasing attention in recent years. During the progression of cancer, excessive inflammation stimulated by the inflammasome is the generally accepted hypothesis explaining the detrimental effect of inflammasomes on multiple forms of cancer. In the downstream course of the inflammasome pathway, IL-1β and IL-18 are activated by caspase-1 to generate an inflammatory response. Therefore, drugs that can downregulate the functions of these cytokines seem to have therapeutic activities in inflammation-associated diseases.
In various in vitro experiments, inflammasome inhibitors have been shown to attenuate the proliferation and invasion of cancer cells. However, their antitumor activities are limited to specific types of cancer. In terms of practical applications, the clinical trials studying inflammasome inhibitors have mainly focused on multiple myeloma, in which thalidomide and anakinra are well studied. Otherwise, inflammasome inhibitors are mostly utilized in inflammatory diseases such as osteoarthritis, rheumatoid arthritis, and colon colitis. Considering the limited application of inflammasome inhibitors in cancer treatment, we are looking forward to more broad-spectrum and effective antitumor drugs. Several of the inflammasome inhibitors detailed above have been demonstrated to have the function of reducing inflammatory responses, indicating that inflammasome inhibitors could be novel candidates for the treatment of malignancies in which inflammation is involved as a major contributor.
The correlation between inflammasomes and cancer provides a promising approach for cancer therapy. The contrasting roles of inflammasomes in different cancers suggest the need for specific strategies when inhibitors are applied in cancer treatment. However, the inappropriate administration of inflammasome inhibitors might result in the repression of antitumor immunity and enhanced infection susceptibility and deterioration in autoinflammatory diseases. Consequently, the application of inflammasome inhibitors must be tailored to the specific type of cancer, and further studies are warranted to characterize the antitumor effects of these drugs.
Acknowledgements
Not applicable
Ethics approval and consent to participate
Not applicable
Consent for publication
Not applicable
Competing interests
The authors declare that they have no competing interests.
Open Access
This article is distributed under the terms of the Creative Commons Attribution 4.0 International License (
http://​creativecommons.​org/​licenses/​by/​4.​0/​
), which permits unrestricted use, distribution, and reproduction in any medium, provided you give appropriate credit to the original author(s) and the source, provide a link to the Creative Commons license, and indicate if changes were made. The Creative Commons Public Domain Dedication waiver (
http://​creativecommons.​org/​publicdomain/​zero/​1.​0/​
) applies to the data made available in this article, unless otherwise stated.
Publisher's Note
Springer Nature remains neutral with regard to jurisdictional claims in published maps and institutional affiliations.