30.06.2017 | Comorbidities of Heart Failure (C Angermann and F Edelmann, Section Editors) | Ausgabe 4/2017 Open Access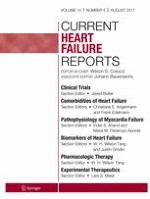 Inflammation – Cause or Consequence of Heart Failure or Both?
Zeitschrift:
Autoren:

Sophie Van Linthout, Carsten Tschöpe
Wichtige Hinweise
This article is part of the Topical Collection on
Comorbidities of Heart Failure
Abstract
Purpose of Review
With the intention to summarize the currently available evidence on the pathophysiological relevance of inflammation in heart failure, this review addresses the question whether inflammation is a cause or consequence of heart failure, or both.
Recent Findings
This review discusses the diversity (sterile, para-inflammation, chronic inflammation) and sources of inflammation and gives an overview of how inflammation (local versus systemic) can trigger heart failure. On the other hand, the review is outlined how heart failure-associated wall stress and signals released by stressed, malfunctioning, or dead cells (DAMPs: e.g., mitochondrial DNA, ATP, S100A8, matricellular proteins) induce cardiac sterile inflammation and how heart failure provokes inflammation in various peripheral tissues in a direct (inflammatory) and indirect (hemodynamic) manner. The crosstalk between the heart and peripheral organs (bone marrow, spleen, gut, adipose tissue) is outlined and the importance of neurohormonal mechanisms including the renin angiotensin aldosteron system and the ß-adrenergic nervous system in inflammation and heart failure is discussed.
Summary
Inflammation and heart failure are strongly interconnected and mutually reinforce each other. This indicates the difficulty to counteract inflammation and heart failure once this chronic vicious circle has started and points out the need to control the inflammatory process at an early stage avoiding chronic inflammation and heart failure. The diversity of inflammation further addresses the need for a tailored characterization of inflammation enabling differentiation of inflammation and subsequent target-specific strategies. It is expected that the characterization of the systemic and/or cardiac immune profile will be part of precision medicine in the future of cardiology.