25.01.2020 | Review | Ausgabe 2/2020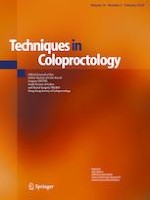 Inflammatory bowel disease (IBD) position statement of the Italian Society of Colorectal Surgery (SICCR): general principles of IBD management
Zeitschrift:
Autoren:

G. Pellino, D. S. Keller, G. M. Sampietro, V. Annese, M. Carvello, V. Celentano, C. Coco, F. Colombo, N. Cracco, F. Di Candido, M. Franceschi, S. Laureti, G. Mattioli, L. Pio, G. Sciaudone, G. Sica, V. Villanacci, R. Zinicola, S. Leone, S. Danese, A. Spinelli, G. Delaini, F. Selvaggi, the Italian Society of Colorectal Surgery (SICCR)
Wichtige Hinweise
List of members for The Italian Society of Colorectal Surgery SICCR are given in acknowledgement section.
Publisher's Note
Springer Nature remains neutral with regard to jurisdictional claims in published maps and institutional affiliations.
Abstract
The Italian Society of Colorectal Surgery (SICCR) promoted the project reported here, which consists of a Position Statement of Italian colorectal surgeons to address the surgical aspects of inflammatory bowel disease management. Members of the society were invited to express their opinions on several items proposed by the writing committee, based on evidence available in the literature. The results are presented, focusing on relevant points. The present paper is not an alternative to available guidelines; rather, it offers a snapshot of the attitudes of SICCR surgeons about the general principles of surgical treatment of inflammatory bowel disease. The committee was able to identify some points of major disagreement and suggested strategies to improve quality of available data and acceptance of guidelines.