01.12.2018 | Case report | Ausgabe 1/2018 Open Access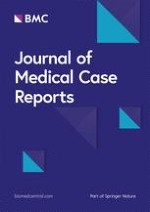 Inflammatory myofibroblastic tumor of the pleura with adjacent chest wall invasion and metastasis to the kidney: a case report
Zeitschrift:
Autoren:

Yong-sub Na, Sang-gon Park
Abstract
Background
Inflammatory myofibroblastic tumor is a rare benign neoplasm that frequently involves the lung and abdominopelvic region, and is found mainly in children and young adults. Inflammatory myofibroblastic tumor tends to be locally invasive or recurrent, and rarely metastasizes.
Case presentation
A 76-year-old Korean man presented with a history of upper back pain for 2 months and motor weakness in both lower extremities for 2 days. Contrast-enhanced computed tomography of his chest and abdomen showed a large heterogeneous pleural mass involving the right fifth rib and vertebral body and a mass infiltrating the right renal hilum. Computed tomography-guided percutaneous needle biopsy of the pleural mass was performed. The histological findings on hematoxylin and eosin staining showed proliferation of spindle cells with infiltration of lymphocytes and plasma cells. Immunohistochemistry showed neoplastic cells positive for CD68, focally positive for smooth muscle actin, and negative for cytokeratin and desmin. Inflammatory myofibroblastic tumor was diagnosed based on the histological examination. Treatment with glucocorticoids (methylprednisolone 1 mg/kg) and radiotherapy (5 days/week for 3 weeks at 3 Gy/fraction, 45 Gy/15 days) was started. After 1 month, chest computed tomography showed a reduction in the size of the pleural mass, and abdominopelvic computed tomography showed decreased infiltration around the right renal pelvis.
Conclusions
Inflammatory myofibroblastic tumor is a rare neoplasm of intermediate malignant potential due to a tendency for local recurrence and it rarely develops distant metastases. Complete surgical resection is the primary treatment. However, unresectable and metastatic inflammatory myofibroblastic tumor can be treated with systemic therapy, including glucocorticoids, radiotherapy, and/or chemotherapy.