01.12.2010 | Research | Ausgabe 1/2010 Open Access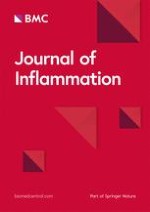 Inflammatory responses in epithelia: endotoxin-induced IL-6 secretion and iNOS/NO production are differentially regulated in mouse mammary epithelial cells
Zeitschrift:
Autoren:

Samar W Maalouf, Rabih S Talhouk, Floyd L Schanbacher
Wichtige Hinweise
Electronic supplementary material
The online version of this article (doi:
10.​1186/​1476-9255-7-58
) contains supplementary material, which is available to authorized users.
Competing interests
The authors declare that they have no competing interests.
Authors' contributions
SWM and FLS designed the experiments of this study, wrote the manuscript and assembled the figures. SWM conducted all the experiments. RST provided cells, protocols, and critical reviews for this manuscript. All authors read and approved the final manuscript.
Background
The focus of this study was to investigate the regulation and coordination of IL-6 and iNOS by ET-induced NFκB activation in mammary epithelial cells, and whether such inflammatory responses are modulated by the cell microenvironment in order to further understand inflammation and inflammation-associated cell transformation in epithelial cells.
Methods
Cell lines and materials
Mouse mammary epithelial cells SCp2 and SCg6 were kindly provided by Dr. Pierre Desprez, (Geraldine Brush Cancer Research Institute; San Francisco, CA). Bovine insulin, ovine prolactin, hydrocortisone, endotoxin (ET, as
Salmonella typhosa
lipopolysaccharide >500,000 EU (ET units)/mg), and dimethyl sulfoxide (DMSO) were purchased from Sigma (St. Louis, MO). Englebreth-Holm-Swarm (EHS)-Matrix growth-factor-reduced BD Matrigel™ (a commercially available extracellular matrix, ECM) was purchased from BD Biosciences (Bedford, MA). Complete™ protease inhibitor tablets were purchased from Roche Diagnostics (Mannheim, Germany). Wedelolactone was purchased from EMD Biosciences (La Jolla, CA). Tetramethyl benzidine (TMB) peroxidase substrate was purchased from BioFX Laboratories (Owings Mills, MD). HRP conjugated anti-rabbit and anti-mouse IgG and enhanced chemiluminescence reagent (ECL) were purchased from General Electric (GE) Healthcare (Buckinghamshire, UK).
Cell culture
Low passage number (13 to 15) SCp2 cells were used throughout. Cells were maintained in growth medium (5% FBS-GM) comprised of DMEM/F12 containing 5% fetal bovine serum (FBS), insulin (5 μg/ml) and gentamicin (50 μg/ml) at 37°C in a humidified atmosphere (95% Air; 5% CO2).
ET-induced inflammation in SCp2 mouse mammary secretory-epithelial cells
To assay for the inflammatory responses of differentiating mammary cells, SCp2 cells were plated on plastic in 5% FBS-GM. Twenty four hours later, cells were induced to differentiate by adding differentiation medium (0% FBS-DM) comprised of DMEM/F12, gentamicin (50 μg/ml), lactogenic hormones (insulin (5 μg/ml), prolactin (3 μg/ml), and hydrocortisone (1 μg/ml)) lacking FBS but supplemented with 0 or 1.5% (v/v) exogenous extracellular matrix (Matrigel™ (EHS)). A stock solution of ET was prepared at 1 mg/ml in 0% FBS-DM. Inflammation was induced by application of a non-toxic dose of ET (10 μg/ml) in 1% FBS-DM 24 h after inducing differentiation. Samples were harvested at 0, 1, 3, 6, 12, 24, and 48 h after ET addition. The collected medium was supplemented with Complete™ protease inhibitor and stored at -80°C for later analysis. Cells were immediately washed and processed for RNA extraction or nuclear and cytosolic protein extraction. To assay for β-casein expression, cultures were left in differentiation medium for 7 days before harvesting the RNA. Reverse transcribed polymerase chain reaction amplification (RT-PCR) was used to assay for β-casein expression in differentiated SCp2 cells using the following primer set: forward (F) = 5'-GTGGCCCTTGCTCTTGCAAG-3'; reverse (R) = 5'-AGTCTGAGGAAAAGCCTGAAC-3' [
17
].
SCp2/SCg6 co-culture system
SCg6 cells were seeded on plastic at 4 × 104 cells/cm2 in 5% FBS-GM for 24 h, then SCp2 cells were seeded on top. The co-cultured cells were shifted to differentiation medium for 24 h before inducing inflammation by addition of ET (10 μg/ml in 1% FBS-DM). Wells of either SCg6 or SCp2 (both at 4 × 104 cells/cm2) alone plated on plastic were used as controls for the SCp2-SCg6 co-culture response to ET treatment.
Inhibition of NFκB activation by Wedelolactone, a selective inhibitor of IKKα and IKKβ
Wedelolactone (7-Methoxy-5, 11, 12 -trihydroxy-coumestan), the natural anti-inflammatory agent found in herbal medicines from
Eclipta alba
, is a selective and irreversible inhibitor of IKKα and IKKβ kinase activity (IC50 = 10 μM) that inhibits NFκB-mediated gene transcription by blocking the phosphorylation and degradation of IκBα [
18
], with no effect on the activities of p38 MAPK or Akt (per the provider; EMD Biosciences). Wedelolactone (5 mg/ml in DMSO) was added at 10 μM to the cells in 1% FBS DM for 1 h prior to addition of ET.
Immunoassay of Interleukin-6
To measure IL-6 secretion in response to ET in SCp2 cells, medium collected at various times post-ET treatment was assayed by enzyme-linked immunosorbent assay (ELISA) for IL-6 (DuoSet kit; R&D Systems Inc, Minneapolis, MN) according to the manufacturer's protocol. Samples were assayed in duplicate and data is represented as the average pg IL-6/ml of three experiments ± standard error of the mean (SEM).
Griess reaction assay of NO for NOS activity
The analysis of NO was accomplished by the Griess assay that measures nitrite (the stable spontaneous oxidation product of NO) using a Griess Reagent Kit (Molecular Probes, Eugene, OR) according to the manufacturer's protocol. Samples were assayed in duplicate and data is represented as the average concentration of NO2- of three experiments ± SEM (μM ± SEM).
RNA extraction, reverse-transcription and quantitative real time polymerase chain reaction analysis
Total RNA was harvested from cells using Qiagen RNeasy kits (Qiagen, Valencia, CA) according to the manufacturer's protocol. One microgram of total RNA was treated with DNAse I (Promega, Madison, WI) before synthesizing cDNA using the Promega reverse transcription system (Promega). Quantitative real time PCR (qPCR) was performed using Qiagen Hot start SyBR Green PCR master mix (Qiagen, Valencia, CA) for each of IL-6 (NM_031168, F: 5'-GTTCTCTGGGAAATCGTGGA-3', R: 5'-GGAAATTGGGGTAGGAAGGA-3'), iNOS (NM_010927, F: 5'-CCCTTCCGAAGTTTCTGGCAGCAGC-3', R: 5'-GGCTGTCAGAGCCTCGTGGCTTTGG-3') [
19
], nNOS (NM_008712), and eNOS (NM_008713) target genes and glyceraldehyde-3-phosphate dehydrogenase (GAPDH) (BC094037, F: 5'-ACCACAGTCCATGCCATCAC-3', R: 5'-TCCACCACCCTGTTGCTGTA-3' [
20
]) as a reference gene. SybrGreen fluorescence of amplified products was quantified with an MJ Research Opticon 2 reader (BioRad, Hercules, CA) relative to an appropriate standard curve from autonomous qPCR assay reactions. Primer pairs were either adopted from the literature or designed using Primer_3 primer design software [
21
] and synthesized by Operon Biotechnologies Inc (Huntsville, AL), with amplified products therefrom authenticated by sequencing. Each sample was analyzed in triplicate qPCR reactions with the average quantity for each gene of interest from triplicate PCR reactions normalized against the average quantity for the reference gene (GAPDH) from triplicate PCR reactions. The results of qPCR analysis are presented as the average amount of each gene relative to GAPDH ± SEM.
Intracellular protein isolation
Total proteins were extracted by scraping SCp2 cells in lysis buffer (10 mM Tris-HCl pH 7.5, 150 mM NaCl, 1% v/v Triton X) supplemented immediately before use by addition of 0.5% sodium orthovandate and 40 μl of Complete™ protease inhibitor solution (1 tablet/2 ml deionized water per manufacturer's instructions). Separate nuclear and cytosolic proteins were selectively extracted (Nuclear Extract kit; Active Motif, Carlsbad, CA) according to the manufacturer's protocol.
Western immunoblot analysis
Total or cytosolic proteins were resolved by SDS-polyacrylamide gel electrophoresis (SDS-PAGE), blotted onto polyvinylidene fluoride (PVDF, General Electric (GE); Buckinghamshire, UK) transfer membrane, and probed for iNOS (Santa Cruz), phospho-eNOS (ser1177 or Thr495) (cell Signaling Technology), IκBα (Abcam), pIκBα (phospho S32+S36) (Abcam), or β-actin (Sigma). Total protein extracts of primary bovine aortic endothelial cells (BAEC) or rat brain lysates (Cell Signaling Technology) were used as positive controls. Densitometric analyses were performed using NIH image J (NIH).
Immunobinding assay for NFκB activation
NFκB activation in nuclear proteins was determined using the NFκB family Trans-AM NFκB binding assay kit (Active Motif, Carlsbad, CA) according to the manufacturer's protocol. Positive and negative controls were assayed simultaneously to verify response specificity. Samples were assayed in duplicate, with results shown as the average of absorbance (A690) ± standard deviation (SD).
Immunodot blot cytokine protein array analysis
RayBio™ Mouse Cytokine ArrayI was purchased from RayBiotech, Inc (Norcross, GA). Conditioned medium collected from control and ET-treated SCp2 cells at 1, 3, 6, and 12 h post-ET was incubated with the cytokine array membranes according to RayBiotech protocols. Signal was detected using a provided ECL Plus detection system (Amersham Phramacia Biotech) and exposed to Kodak x-omat AR film (Kodak; New Haven, CT).
Statistical analysis
Significant differences between different groups were determined using Proc Mixed analysis of SAS 9.1 (SAS Institute Inc., Cary, NC). For each set of experiments studying the effect of ET alone or ET in the presence or absence of Wedelolactone (IKK inhibitor), serum and ECM on IL-6, iNOS/NO and/or NFκB, the statistical analysis included time post ET treatment, treatment (ET, Wedelolactone, ECM, or ET and Wedelolactone), and time by treatment interactions. The effect of treatment within each time point was tested using the slice option by time. Results of two experiments were expressed as mean ± SEM, and significance was defined by p < 0.05, unless noted otherwise.
Results
Discussion
Treatment of SCp2 cells with different doses of exogenous mouse recombinant IL-6 protein at doses (0.1, 1, and 10 nM) representing respectively 1/10, 1, and 10 × the levels of secreted IL-6 protein found in the medium of ET-treated SCp2 cells, did not induce expression of iNOS when applied alone in the absence of ET (data not shown), suggesting that the expression of iNOS mRNA was induced in response to ET alone and not in response to IL-6, and thus the delay in iNOS expression is due to a different control mechanism than that of IL-6.
Conclusions
In conclusion, we have shown that ET induces IL-6 and iNOS but not eNOS or nNOS mRNA expression in SCp2 mammary epithelial cells. ET-induced IL-6 and iNOS mRNA expression occurs likely via different regulatory mechanisms as shown by a delay in the temporal pattern of ET-induced iNOS mRNA expression and NO production compared to that of IL-6 mRNA expression and protein secretion. The inhibition of ET-induced IL-6 but not iNOS mRNA expression by the IKK inhibitor Wedelolactone suggests that the different regulation of IL-6 and iNOS by ET likely involves rapid (IL-6) vs. slow (iNOS) NFκB activation pathways. Moreover, cell-ECM and cell-cell interactions between the two resident cell types of the mammary epithelium differentially modulate ET-induced IL-6 and NO inflammatory responses in the absence of immune cells. Intriguingly, cell-cell interaction alone induced remarkable secretion of IL-6 but not NO production. These results suggest that the microenvironment context of the inflamed epithelial cell is important for understanding the regulation of inflammation and the link between inflammation and cancer.
Moreover, our study along with previous studies from our group using similar approaches in the mammary epithelial cell system, emphasize that inflammation in mammary epithelial cells would involve a set of early inflammatory respondents (IL-6, TNFα, and NGF [
37
] and unpublished data), and late respondents (iNOS, NO, and MMPs [
37
,
38
]) induced in temporal sequences that may ultimately lead to disruption of cell-substratum interactions and tissue function to eventually lead to disease. Though all of these inflammatory markers are regulated by NFκB, the studies recorded here show that they likely are not regulated by the same NFκB subunits, or NFκB activating machinery. Therefore, understanding of the innate immune response of epithelia particularly for its regulation and coordination, and linkage thereof to immune responses will be crucial for understanding the link between chronic inflammation and cancer in epithelial tissues.
The difference in the regulation of two NFκB mediated inflammatory respondents (IL-6 and NO) described in this study in addition to the temporal regulation of NFκB for specific responses [
39
] and for NFκB activation by different inflammatory stimuli [
40
] demonstrates the importance of timing in orchestrating the activation of inflammatory respondents and regulation of inflammation. The ability of SCp2 mammary secretory epithelial cells to respond to inflammatory stimulation as well as to changes in their extracellular matrix environment and interactions between the two cell types comprising the mammary epithelium provides an interesting model to further investigate the difference in temporal regulation of inflammatory respondents and their modulation by the cell differentiation state and by interaction of epithelial cell types in the absence of immune cells.
Acknowledgements
OARDC Manuscript No. 10/10AS. This work was supported by USDA grant No. 2201-38873-11523, and additional salaries and research support provided by State and Federal funds appropriated to the Ohio Agricultural Research and Development Center, The Ohio State University. Also, this work is dedicated to the memory of Ron Neiswander for his valuable technical support in the different procedures used in this project. Special Thanks to Diane Borger for her help in time point collections of data.
Open Access
This article is published under license to BioMed Central Ltd. This is an Open Access article is distributed under the terms of the Creative Commons Attribution 2.0 International License (
https://​creativecommons.​org/​licenses/​by/​2.​0
), which permits unrestricted use, distribution, and reproduction in any medium, provided the original work is properly cited.
Competing interests
The authors declare that they have no competing interests.
Authors' contributions
SWM and FLS designed the experiments of this study, wrote the manuscript and assembled the figures. SWM conducted all the experiments. RST provided cells, protocols, and critical reviews for this manuscript. All authors read and approved the final manuscript.