02.05.2019 | Original Article | Ausgabe 9/2019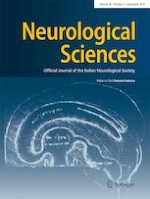 Influence of chronotype on migraine characteristics
Zeitschrift:
Autoren:

Giovanna Viticchi, Lorenzo Falsetti, Matteo Paolucci, Claudia Altamura, Laura Buratti, Sergio Salvemini, Nicoletta Brunelli, Marco Bartolini, Fabrizio Vernieri, Mauro Silvestrini
Wichtige Hinweise
Publisher's note
Springer Nature remains neutral with regard to jurisdictional claims in published maps and institutional affiliations.
Abstract
Background
The aim of this study was to investigate chronotype in migraine patients and possible influences on the clinical expression of the disease.
Methods
During a one-year period, all consecutive patients admitted to two third-level headache centres with a new diagnosis of migraine were enrolled in a cross-sectional study. All subjects were submitted to the Morningness–Eveningness Questionnaire (MEQ-SA) and then classified in five different categories, from late to early-rising chronotype. Differences and trends among MEQ-SA categories and years from migraine onset, attacks' intensity and frequency were analysed first with analysis of variance, then with a multivariate/generalized linear model.
Results
One hundred seventy one migraine patients were included. Early-rising patients showed a lower migraine attacks frequency and longer disease duration with respect to late-rising patients. The categorical variable containing the five circadian types was able to identify a significantly different trend both for the monthly attacks frequency and for the disease duration (
p
 < 0.0001 and
p
 < 0.0001, respectively, analysis of variance). The results were also confirmed after correction for main influencing variables (multivariate/generalized linear model). The intensity of migraine attacks was not influenced by chronotype.
Conclusions
According to the results of the present study, chronotype seems to influence number and duration of migraine attacks. Although sleep–wake cycle is a well-recognized factor able to influence thalamic–cortical synchronization, it usually does not receive appropriate consideration during migraine patients' assessment.