01.12.2015 | Research article | Ausgabe 1/2015 Open Access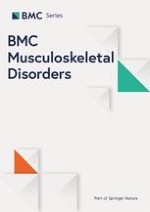 Influence of dendritic polyglycerol sulfates on knee osteoarthritis: an experimental study in the rat osteoarthritis model
Zeitschrift:
Autoren:

Tobias Schneider, Pia Welker, Kai Licha, Rainer Haag, Gundula Schulze-Tanzil
Wichtige Hinweise
Electronic supplementary material
The online version of this article (doi:
10.​1186/​s12891-015-0844-3
) contains supplementary material, which is available to authorized users.
Competing interests
The authors declare that none of them has any competing interest
s
.
Authors' contributions
TS performed and planed the
in vitro
and
in vivo
experiments. Further, he performed the data analysis. He wrote the main body of the manuscript. PW and KL synthesized the dPGS used in the study. PW contributed worthful advices and discussions of data. PW and KL revised the manuscript. RH: was an important supervisor of the study. He revised the manuscript. GST: planned and supervised the study. She performed together with TS the
in vivo
experiments. She contributed parts to the manuscript and thoroughly revised it. She interpreted the data. All authors read and approved the final manuscript.
Authors' information
Tobias Schneider: Department of Orthopaedic, Trauma and Reconstructive Surgery, Charité Universitätsmedizin Berlin, Campus Benjamin Franklin, Berlin, Germany and Institute of Anatomy, Paracelsus Medical University, Salzburg and Nuremberg, Germany, Prof. Ernst Nathan Str. 1, 90419 Nuremberg, Germany
Pia Welker, Kai Licha: IC Discovery GmbH, Robert Koch Platz 4, 10115 Berlin, Germany
Rainer Haag: Institute for Chemistry and Biochemistry, Freie Universität Berlin, Takustrasse 3, 14195 Berlin, Germany.
Gundula Schulze-Tanzil: Institute of Anatomy, Paracelsus Medical University, Salzburg and Nuremberg, Germany, Prof. Ernst Nathan Str. 1, 90419 Nuremberg, Germany
Abstract
Background
Anti-inflammatory nanoparticular compounds could represent a strategy to diminish osteoarthritis (OA) progression.
The present study was undertaken to prove the uptake of nanoparticular dendritic polyglycerol sulfates (dPGS) by rat-derived articular chondrocytes and to answer the question of whether dPGS could modulate knee joint cartilage degradation in a rat OA model and whether complications could arise.
Methods
dPGS uptake and cytotoxicity was assessed in cultured primary rat-derived articular chondrocytes. Subsequently, OA was induced in the right knee joints of 12 male Wistar rats by medial collateral ligament and meniscus transection. Unoperated left knees remained as controls. Six weeks post surgery six rats were either treated daily (14 days) with 30 mg/kg dPGS (s.c.) or a similar volume of physiological saline. Animals were analyzed clinically for gait alterations. Explanted knee joints were studied histologically using OA scores according to Mankin (1971), Glasson et al., (2010) and the synovitis score according to Krenn et al., (2006). Liver, spleen and kidneys were analyzed for degenerative changes due to dPGS accumulation.
Results
dPGS was taken up after 2 hours by the chondrocytes. Whereas no significant clinical signs of OA could be detected, at the histological level, all operated rat knee joints revealed features of OA in the medial compartment. The values produced by both OA score systems were lower in rats treated with dPGS compared with saline-treated animals. Synovitis score did not significantly differ between the groups. The analyzed organs revealed no degenerative changes.
Conclusions
dPGS presented overall cyto- and biocompatibility, no accumulation in metabolizing organs and chondroprotective properties in the osteoarthritic knee joint.