29.05.2018 | Research Article | Ausgabe 1/2019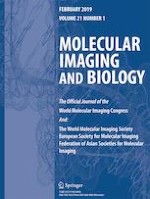 Influence of Dexamethasone on O-(2-[18F]-Fluoroethyl)-
l

-Tyrosine Uptake in the Human Brain and Quantification of Tumor Uptake
Zeitschrift:
Autoren:

Carina Stegmayr, Gabriele Stoffels, Elena Rota Kops, Philipp Lohmann, Norbert Galldiks, Nadim J. Shah, Bernd Neumaier, Karl-Josef Langen
Wichtige Hinweise
Electronic supplementary material
Abstract
Purpose
O-(2-[
18
F]fluoroethyl)-
l
-tyrosine ([
18
F]FET) is an established positron emission tomography (PET) tracer for brain tumor imaging. This study explores the influence of dexamethasone therapy on [
18
F]FET uptake in the normal brain and its influence on the maximum and mean tumor-to-brain ratio (TBR).
Procedures
[18F]FET PET scans of 160 brain tumor patients were evaluated (80 dexamethasone treated, 80 untreated; each group with 40 men/40 women). The standardized uptake value of [18F]FET uptake in the normal brain (SUVbrain) in the different groups was compared. Nine patients were examined repeatedly with and without dexamethasone therapy.
Results
SUV
brain
of [
18
F]FET uptake was significantly higher in dexamethasone-treated patients than in untreated patients (SUV
brain
1.33 ± 0.1
versus
1.06 ± 0.16 in male and 1.45 ± 0.25
versus
1.31 ± 0.28 in female patients). Similar results were observed in patients with serial PET scans. Furthermore, compared to men, a significantly higher SUV
brain
was found in women, both with and without dexamethasone treatment. There were no significant differences between the different groups for TBR
max
and TBR
mean
, which could have been masked by the high standard deviation. In a patient with a stable brain metastasis investigated twice with and without dexamethasone, the TBR
max
and the biological tumor volume (BTV) decreased considerably after dexamethasone due to an increased SUV
brain
.
Conclusion
Dexamethasone treatment appears to increase the [18F]FET uptake in the normal brain. An effect on TBRmax, TBRmean, and BTV cannot be excluded which should be considered especially for treatment monitoring and the estimation of BTV using [18F]FET PET.