13.02.2019 | OriginalPaper | Ausgabe 1/2019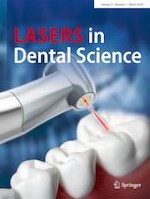 Influence of different surface protocols on dentin bond strength irradiated with Er,Cr:YSGG laser
Zeitschrift:
Autoren:

Máyra Andressa R. Valinhos Piccioni, Aline Carvalho Girotto, José Roberto Cury Saad, Edson Alves de Campos
Wichtige Hinweise
Publisher's note
Springer Nature remains neutral with regard to jurisdictional claims in published maps and institutional affiliations.
Abstract
Objectives
The aim of this study was to evaluate the influence of Er,Cr:YSGG laser irradiation on the bond strength of different self-etch adhesives systems in normal and artificially hypermineralized dentin.
Method
Two hundred forty healthy bovine incisors were selected. The specimens were randomly divided into two different groups according to the type of dentin. The teeth of each group were randomly divided into five subgroups according to the adhesive system used: Clearfil SE Bond (Kuraray) and Single Bond Universal (3M ESPE). Each subgroup received different treatments: (1) adhesive system (control); (2) acid etching + laser etching + adhesive system; (3) laser etching + acid etching + adhesive system; (4) acid etching + adhesive system; and (5) laser etching + adhesive system. Matrices were positioned, filled with composite resin, and photoactivated for 40 s. After storage period of 24 h in a humid environment, the specimens were submitted to microshear bond strength testing. Subsequently, the fracture pattern of each sample was determined. Four specimens per group were prepared in order to evaluate the interface and/or appearance of resin tags. The data of microshear bond strength (μSBS) were analyzed by two-way ANOVA and Tukey's (
p
< 0.05).
Results
Lower μSBS values were found for the (3) and (5) in experiments with both adhesives.
Conclusion
Single Bond Universal self-etching adhesive, after preliminary etching with phosphoric acid, showed highest μSBS values for both substrates in accordance with the manufacturer's recommendations. The μSBS values were higher for the control treatment using Clearfil SE Bond for both substrates. It may be possible the option of employing the Clearfil SE Bond in dentin sclerotic without the need for complementary etching treatment.