01.06.2014 | Otology | Ausgabe 6/2014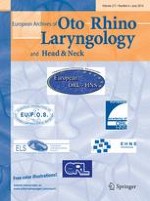 Influence of directionality and maximal power output on speech understanding with bone anchored hearing implants in single sided deafness
Zeitschrift:
Autoren:

Silvia Krempaska, Juraj Koval, Christoph Schmid, Flurin Pfiffner, Anja Kurz, Martin Kompis
Abstract
Bone-anchored hearing implants (BAHI) are routinely used to alleviate the effects of the acoustic head shadow in single-sided sensorineural deafness (SSD). In this study, the influence of the directional microphone setting and the maximum power output of the BAHI sound processor on speech understanding in noise in a laboratory setting were investigated. Eight adult BAHI users with SSD participated in this pilot study. Speech understanding in noise was measured using a new Slovak speech-in-noise test in two different spatial settings, either with noise coming from the front and noise from the side of the BAHI (S
90
N
0
) or vice versa (S
0
N
90
). In both spatial settings, speech understanding was measured without a BAHI, with a Baha BP100 in omnidirectional mode, with a BP100 in directional mode, with a BP110 power in omnidirectional and with a BP110 power in directional mode. In spatial setting S
90
N
0
, speech understanding in noise with either sound processor and in either directional mode was improved by 2.2–2.8 dB (
p
= 0.004–0.016). In spatial setting S
0
N
90
, speech understanding in noise was reduced by either BAHI, but was significantly better by 1.0–1.8 dB, if the directional microphone system was activated (
p
= 0.046), when compared to the omnidirectional setting. With the limited number of subjects in this study, no statistically significant differences were found between the two sound processors.