01.10.2011 | PHASE I STUDIES | Ausgabe 5/2011 Open Access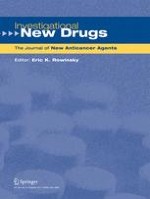 Influence of pharmacogenetic variability on the pharmacokinetics and toxicity of the aurora kinase inhibitor danusertib
Zeitschrift:
Autoren:

Neeltje Steeghs, Ron H. J. Mathijssen, Judith A. M. Wessels, Anne-Joy de Graan, Tahar van der Straaten, Mariangela Mariani, Bernard Laffranchi, Silvia Comis, Maja J. A. de Jonge, Hans Gelderblom, Henk-Jan Guchelaar
Summary
Objectives
Danusertib is a serine/threonine kinase inhibitor of multiple kinases, including aurora-A, B, and C. This explorative study aims to identify possible relationships between single nucleotide polymorphisms in genes coding for drug metabolizing enzymes and transporter proteins and clearance of danusertib, to clarify the interpatient variability in exposure. In addition, this study explores the relationship between target receptor polymorphisms and toxicity of danusertib.
Methods
For associations with clearance, 48 cancer patients treated in a phase I study were analyzed for
ABCB1
,
ABCG2
and
FMO3
polymorphisms. Association analyses between neutropenia and drug target receptors, including
KDR, RET, FLT3, FLT4, AURKB
and
AURKA,
were performed in 30 patients treated at recommended phase II dose-levels in three danusertib phase I or phase II trials.
Results
No relationships between danusertib clearance and drug metabolizing enzymes and transporter protein polymorphisms were found. Only, for the one patient with
FMO3
18281AA polymorphism, a significantly higher clearance was noticed, compared to patients carrying at least 1 wild type allele. No effect of target receptor genotypes or haplotypes on neutropenia was observed.
Conclusions
As we did not find any major correlations between pharmacogenetic variability in the studied enzymes and transporters and pharmacokinetics nor toxicity, it is unlikely that danusertib is highly susceptible for pharmacogenetic variation. Therefore, no dosing alterations of danusertib are expected in the future, based on the polymorphisms studied. However, the relationship between
FMO3
polymorphisms and clearance of danusertib warrants further research, as we could study only a small group of patients.