01.12.2017 | Research article | Ausgabe 1/2017 Open Access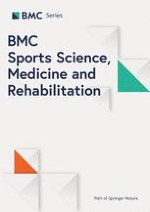 Influence of recovery strategies upon performance and perceptions following fatiguing exercise: a randomized controlled trial
Zeitschrift:
Autoren:

Fiona Crowther, Rebecca Sealey, Melissa Crowe, Andrew Edwards, Shona Halson
Abstract
Background
Despite debate regarding their effectiveness, many different post-exercise recovery strategies are used by athletes. This study compared five post-exercise recovery strategies (cold water immersion, contrast water immersion, active recovery, a combined cold water immersion and active recovery and a control condition) to determine which is most effective for subsequent short-term performance and perceived recovery.
Methods
Thirty-four recreationally active males undertook a simulated team-game fatiguing circuit followed by the above recovery strategies (randomized, 1 per week). Prior to the fatiguing exercise, and at 1, 24 and 48 h post-exercise, perceptual, flexibility and performance measures were assessed.
Results
Contrast water immersion significantly enhanced perceptual recovery 1 h after fatiguing exercise in comparison to active and control recovery strategies. Cold water immersion and the combined recovery produced detrimental jump power performance at 1 h compared to the control and active recovery strategies. No recovery strategy was different to the control at 24 and 48 h for either perceptual or performance variables.
Conclusion
For short term perceptual recovery, contrast water therapy should be implemented and for short-term countermovement power performance an active or control recovery is desirable. At 24 and 48 h, no superior recovery strategy was detected.