01.12.2015 | Research article | Ausgabe 1/2015 Open Access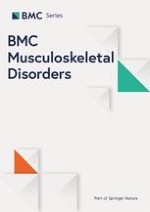 Influence of surgical approach on component positioning in primary total hip arthroplasty
Zeitschrift:
Autoren:

Moritz M. Innmann, Marcus R. Streit, Jeanette Kolb, Jochen Heiland, Dominik Parsch, Peter R. Aldinger, Matthias Königshausen, Tobias Gotterbarm, Christian Merle
Wichtige Hinweise
Competing interests
The authors declare that they have no competing interests.
Authors' contributions
MMI, CM, JK and JH carried out the radiographic measurements. MMI and CM drafted the manuscript. MMI, MRS, DP, PRA, MK, TG, CM participated in the design of the study. MMI and CM performed the statistical analysis. CM conceived of the study, and participated in its design and coordination and helped to draft the manuscript. All authors read and approved the final manuscript.
Abstract
Background
Minimal invasive surgery (MIS) has gained growing popularity in total hip arthroplasty (THA) but concerns exist regarding component malpositioning. The aim of the present study was to evaluate femoral and acetabular component positioning in primary cementless THA comparing a lateral to a MIS anterolateral approach.
Methods
We evaluated 6 week postoperative radiographs of 52 hips with a minimal invasive anterolateral approach compared to 54 hips with a standard lateral approach. All hips had received the same type of implant for primary cementless unilateral THA and had a healthy hip contralaterally.
Results
Hip offset was equally restored comparing both approaches. No influence of the approach was observed with regard to reconstruction of acetabular offset, femoral offset, vertical placement of the center of rotation, stem alignment and leg length discrepancy. However, with the MIS approach, a significantly higher percentage of cups (38.5 %) was malpositioned compared to the standard approach (16.7 %) (p = 0.022).
Conclusions
The MIS anterolateral approach allows for comparable reconstruction of stem position, offset and center of rotation compared to the lateral approach. However, surgeons must be aware of a higher risk of cup malpositioning for inclination and anteversion using the MIS anterolateral approach.