21.06.2017 | Review | Ausgabe 1/2018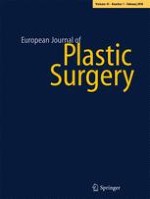 Influence of surgical wrist denervation on proprioceptive changes: A systematic review
Zeitschrift:
Autoren:

Babak Janghorban Esfahani, Simon Paul, Tobias M. Kraus, Panagiotis Theodorou, Christian P. Pathak, Ali Saalabian, Cedric E. Boesch
Abstract
The denervation of the wrist is a known method to treat the painful wrist. Pain relief and therefore functional improvement is the main goal to be achieved, but very little is known about other effects such the influence on proprioception. There are references that indicate an effect on reflex arcs after a certain stimulus on the wrist, and thus, changes in proprioception may come along with a surgical denervation. This systematic review was conducted to investigate if there is evidence that assesses the influence of surgical wrist denervation on proprioceptive changes and the methods that were used. Very few articles describe an effect of denervation on the proprioception of the wrist. Reliable tests to measure proprioception are rare. Such tests exist but still they comprise bias and lack of minimation of other influences such as optic input. Subject of further investigation should be proprioception itself and methods to test this quality objectively.
Level II, risk/prognostic study.