16.11.2016 | Original Article | Ausgabe 3/2017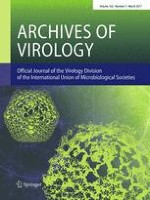 Influenza virus infection induces translocation of apoptosis-inducing factor (AIF) in A549 cells: role of AIF in apoptosis and viral propagation
Zeitschrift:
Autoren:

Xinyan Qu, Xiaoran Ding, Ming Duan, Jing Yang, Ruxian Lin, Zhe Zhou, Shengqi Wang
Wichtige Hinweise
X. Qu, X. Ding and M. Duan contributed equally to this work.
Abstract
It is recognized that influenza virus induces caspase-dependent apoptosis by activating caspase-3. Apoptosis-inducing factor (AIF) is a caspase-independent cell death effector, and its mitochondrial-nuclear translocation plays an important role in apoptosis. It is demonstrated in this study how influenza virus infection can induce caspase-independent apoptosis in the human alveolar epithelial cell line A549. AIF is translocated from the mitochondria to the nucleus in a caspase-independent manner in response to infection with influenza virus. Knockdown of AIF expression by small interfering RNA (siRNA) led to a reduction in virus-infection-induced apoptosis and virus yield. These results indicate that AIF translocation has a role in influenza-virus-induced apoptosis.