01.12.2015 | Research article | Ausgabe 1/2015 Open Access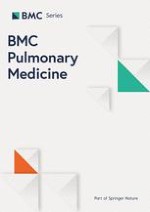 Inhaled β-agonist does not modify sympathetic activity in patients with COPD
Zeitschrift:
Autoren:

Helge Haarmann, Cordula Mohrlang, Uta Tschiesner, David B Rubin, Thore Bornemann, Karin Rüter, Slavtcho Bonev, Tobias Raupach, Gerd Hasenfuß, Stefan Andreas
Wichtige Hinweise
Electronic supplementary material
The online version of this article (doi:
10.​1186/​s12890-015-0054-7
) contains supplementary material, which is available to authorized users.
Competing interests
HH has received a travel grant from Pfizer. CM, UT, DR are employees at GSK and own stock in GSK. TB, KR and SB declare no conflict of interests. TR undertakes research and consultancy and receives fees for speaking from companies that develop and manufacture smoking cessation medications (Pfizer, Novartis, GlaxoSmithKline, Astra Zeneca, and Roche). GH has received honorarium for presentations from the following companies: Servier, Impulse Dynamics, Astra Zeneca, and Bayer. He has furthermore received consultant fees from the following companies: Servier, Impulse Dynamics, Novartis, CircuLite, and DC Devices. SA has received support from GSK to conduct this study, fees for Advisory Boards from GSK, Pfizer and Almirall, and fees for lectures from GSK, Almirall, Boehringer Ingelheim, Novartis, Nycomed and Pfizer.
Authors' contributions
HH is subinvestigator, performed data collection, contributed to study conception, data analysis, and manuscript writing. CM contributed to protocol writing and reviewed the manuscript. UT contributed to data analyses and manuscript writing. DR contributed to study conception and reviewed the manuscript. TB contributed to data collection and data analysis. KR performed echocardiography. SB contributed to HRV and BRS data. TR contributed to data interpretation and manuscript writing. GH contributed to data interpretation. SA is principal investigator, guarantor of the manuscript, developed the study conception, contributed to data analysis, and drafted the manuscript. All authors read and approved the final draft before submission.
Abstract
Background
Neurohumoral activation is present in COPD and might provide a link between pulmonary and systemic effects, especially cardiovascular disease. Because long acting inhaled β-agonists reduce hyperinflation, they could reduce sympathoexcitation by improving the inflation reflex. We aimed to evaluate if inhaled therapy with salmeterol reduces muscle sympathetic nerve activity (MSNA) evaluated by microneurography.
Methods
MSNA, heart rate, blood pressure, and respiration were continually measured. After baseline recording of 20 minutes, placebo was administered; after further 45 minutes salmeterol (50 μg) was administered which was followed by a further 45 minutes of data recording. Additionally, lung function, plasma catecholamine levels, arterial pulse wave velocity, heart rate variability, and baroreflex sensitivity were evaluated. Following 4 weeks of treatment with salmeterol 50 μg twice daily, measurements were repeated without placebo administration.
Results
A total of 32 COPD patients were included. Valid MSNA signals were obtained from 18 patients. Change in MSNA (bursts/100 heart beats) following acute administration of salmeterol did not differ significantly from the change following placebo (-1.96 ± 9.81 vs. -0.65 ± 9.07; p = 0.51) although hyperinflation was significantly reduced. Likewise, no changes in MSNA or catecholamines were observed after 4 weeks. Heart rate increased significantly by 3.8 ± 4.2 (p < 0.01) acutely and 3.9 ± 4.3 bpm (p < 0.01) after 4 weeks. Salmeterol treatment was safe and well tolerated.
Conclusions
By using microneurography as a gold standard to evaluate sympathetic activity we found no change in MSNA following salmeterol inhalation. Thus, despite an attenuation of hyperinflation, the long acting β-agonist salmeterol does not appear to reduce nor incite sympathoexcitation.
Trial registration
This study was registered with the European Clinical Trials Database (EudraCT No. 2011-001581-18) and ClinicalTrials.gov (
NCT01536587
).