01.12.2018 | Case report | Ausgabe 1/2018 Open Access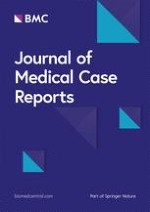 Inherited thrombotic thrombocytopenic purpura mimicking immune thrombocytopenic purpura during pregnancy: a case report
Zeitschrift:
Autoren:

Valter Romão de Souza Jr, Ana Beatriz Cavalcante de Oliveira, Ana Maria Vanderlei, Amanda Queiroz da Mota Silveira Aroucha, Bruna Pontes Duarte, Aureli Nunes Machado, Lívia Netto Chaer, Cláudia Wanderley de Barros Correia, Maria da Conceição de Barros Correia, Manuela Freire Hazin Costa
Abstract
Background
Thrombotic thrombocytopenic purpura is a very rare hereditary blood deficiency disorder of ADAMTS13 (von Willebrand factor-cleaving protease) and a life-threatening thrombotic microangiopathy characterized by thrombocytopenia and microangiopathic hemolytic anemia. The deficiency in ADAMTS13 metalloprotease, which cleaves the von Willebrand factor, may be congenital or acquired. The congenital form is caused by inherited mutations in the
ADAMTS13
gene. The diagnosis is challenging due to the nonspecific signs and symptoms, as well as the rarity of the disease.
Case presentation
We present an unusual case of a 20-year-old feoderm woman from northeast region of Brazil who manifested thrombocytopenia during her pregnancy which was believed to be immune thrombocytopenic purpura.
Conclusions
Considering the importance of a differential diagnosis of thrombotic microangiopathic disorders, congenital thrombotic thrombocytopenic purpura may mimic the signs and symptoms of pre-eclampsia/eclampsia, hemolysis with elevated liver enzymes and low platelet count syndrome, and atypical hemolytic-uremic syndrome. It should be considered in suspect cases in patients with an ADAMTS13 activity at 5% without ADAMTS13 antibodies.