01.12.2016 | Primary research | Ausgabe 1/2016 Open Access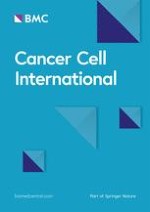 Inhibition of glycolytic enzyme hexokinase II (HK2) suppresses lung tumor growth
Zeitschrift:
Autoren:

Huanan Wang, Lei Wang, Yingjie Zhang, Ji Wang, Yibin Deng, Degui Lin
Background
Methods
Cell lines, cell culture and reagents
Mouse lung cancer cell (KP2) line was generous gifted from Prof. Taylor Jackson. Human lung cancer cell (H23) was obtained from American Type Culture Collection. KP2 and H23 cells stably expressing GFP-LC3. All these cells were cultured in DMEM supplemented with 10 % FBS. 2-DG was purchased from Sigma-Aldrich and formulated in PBS.
Plasmids and viral transfections
PLZW plasmids expressing human HK2 were obtained from Addgene. All other shRNAs were from the BioMedical Genomics Center at The University of Minnesota. These are lentiviral shRNAs and are as follows: Kras (TRCN0000034384 and TRCN0000055356; TRCN0000055357 for human and mouse), HK2 (TRCN0000037670 and TRCN0000037609; TRCN0000037669 for human; and TRCN0000037672 for mouse), AKT (TRCN0000039793; TRCN0000039794; TRCN0000039796 for human and mouse). In this study, we used the calcium phosphate transfection method to transfect vector into actively growing HEK-293T cells as described previously [
22
]. In briefly, the pLKO.1 vector backbone as the negative control vector has no hairpin insert. Firstly, shRNA-encoding plasmids need to be mixed thoroughly with envelope and packaging plasmids (VSVG, REV and pMDL) and then co-transfected into adherent HEK-293T cells using the calcium phosphate method. Collected virus-containing supernatant at 36 h after transfection, and centrifuged to remove cell and cell debris, and then infected the target cell with 8 μg/ml polybrene. To generate stable cell lines, cells were selected with 8 μg/ml puromycin 24 h later and knockdown efficiency was detected by immunoblotting.
Cell growth evaluation and clonogenic survival assay
Seeded 2 × 10 5 cells in each well in 6-well plates to analyze cell growth by 2-DG treatment. Incubated the cells overnight for cells attaching. To study whether the inhibition of cell growth treated with 2-DG is dose and time dependent, we collected cells treated with different concentration of 2-DG (2.5, 5,10, 10 mg/ml) for 48 h and cells treated with 10 mg/ml 2-DG for different time (12, 24, 48, 60, 72 h). Stained the cells with 0.25 % (w/v) trypan blue and counted. Washed the cells twice with PBS, and fixed in 10 % formalin for 10 min at room temperature, and then stained with methanol (10 % v/v) containing crystal violet (0.1 % w/v). Removed excess crystal violet and washed several times with distilled water and dried them. For clonogenic survival assay, seeded 2 × 10 4 cells in each well of 6-well plate with stably expressing shRNA. After 1 week, fixed cell colonies in 10 % formalin and stained with crystal violet (0.1 % w/v).
Western blotting
Washed the cells twice with ice-cold PBS and then lysed with ice-cold lysis buffer (50 mM HEPES pH 7.4, 150 mM NaCl, 2 mM MgCl2, 5 mM EGTA pH 8.0, 1 mM dithiothreitol, 0.5 % Triton X–100, 10 % glycerol, 1 mM Na3VO4, 1 μM microcystin–LR and protease/phosphatase inhibitor cocktail) for 30 min on ice. The lysates were centrifuged at 12,000 rpm for 5 min at 4 °C. Equivalent samples were resolved by SDS-PAGE and transferred onto PVDF membranes. Membranes were blocked with 5 % non-fat milk in PBS and then probed with indicated primary antibody overnight at 4 °C. In this study, the following antibodies were used: Kras (Millipore), HK2 (Cell signaling technology), Cleaved PARP (human) (Cell signaling technology), Cleaved PARP (mouse) (Cell signaling technology), LC3II (Cell signaling technology), Alpha-tubulin (Santa Cruz Technologies) and all of them were used at 1:1000 dilution. Then, primary antibody was detected with HRP-conjugated anti-mouse or anti-rabbit secondary antibody (GE Healthcare). Western HRP substrate was from Millipore.
Immunohistochemistry (IHC)
All immunohistochemical analyses were carried out as previously described [
23
]. In this study, the following antibodies were used: LC3II, cleaved caspase-3 (Cell Signaling) and Ki67 (Millipore), and all of them were used at 1:100 dilution.
Xenograft mouse model and treatment
The animal protocol was approved by the Institutional Animal Care and Use Committee of the University of Minnesota, and carried out at the Hormel Institute's AAALAC-accredited animal facility. Subcutaneously injected 1 × 10
6
cells (suspended in 100 μl of PBS) into the lower flank of NSG mice (005557 from The Jackson Laboratory;
http://​jaxmice.​jax.​org/​strain/​005557.​html
). To further study the Kras and HK2 function in vivo, the mice were injected with control, Kras knockdown KP2 cells, HK2 knockdown KP2 cells, or rescuing HK2 KP2 cells, monitored for tumor progress and euthanized all mice at 4 weeks after injection. Tumors were weighed and photographed. Once xenograft tumors for the study of 2-DG treatment were established (the tumor volume is about 50–100 mm
3
), two groups of mice were treated with PBS (Control) or 2-DG (800 mg/kg in PBS) by I.P. injection (daily for 15 days). Mice were euthanized, and tumors were dissected, weighed and fixed in 10 % formalin for histopathology and IHC analysis.
Statistical analyses
Statistical significance is determined by Student's t test or ANOVA analysis with Graphad Prism (v.5). P < 0.05 is considered to be statistically difference, and P < 0.01 is significant difference.
Results
Discussion
Conclusions
Briefly, our genetic and pharmacological studies furthermore suggest that HK2 is one of the most important potential therapy targets and its inhibitor 2-DG is showing promising therapy efficacy in Kras overexpression and p53 function lose-driven malignant lung cancer.
Authors' contributions
HW and LW performed animal studies, hematoxylin and eosin staining, and immunohistochemistry on prostate cancer samples. HW performed cell culture studies. YZ and JW helped with the cell culture and animal experiments and generated data. DL provided conceptual advice, assisted with the design of animal experiments, and helped to edit the manuscript. YD supplied some experimental materials and provided conceptual advice. All authors read and approved the final manuscript.
Acknowledgements
This work is supported, in part, by Grants from the Hormel Foundation (Y.D.). China National Nature and Science Foundation (31372489 and 30972231 Degui Lin).
Competing interests
The authors declare that they have no competing interests.
Open Access
This article is distributed under the terms of the Creative Commons Attribution 4.0 International License (
http://​creativecommons.​org/​licenses/​by/​4.​0/​
), which permits unrestricted use, distribution, and reproduction in any medium, provided you give appropriate credit to the original author(s) and the source, provide a link to the Creative Commons license, and indicate if changes were made. The Creative Commons Public Domain Dedication waiver (
http://​creativecommons.​org/​publicdomain/​zero/​1.​0/​
) applies to the data made available in this article, unless otherwise stated.