01.12.2017 | Research | Ausgabe 1/2017 Open Access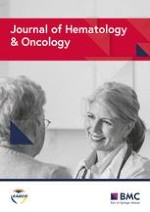 Inhibition of LIN28B impairs leukemia cell growth and metabolism in acute myeloid leukemia
Zeitschrift:
Autoren:

Jianbiao Zhou, Chonglei Bi, Ying Qing Ching, Jing-Yuan Chooi, Xiao Lu, Jessie Yiying Quah, Sabrina Hui-Min Toh, Zit-Liang Chan, Tuan Zea Tan, Phyllis SY Chong, Wee-Joo Chng
Wichtige Hinweise
Electronic supplementary material
The online version of this article (doi:
10.​1186/​s13045-017-0507-y
) contains supplementary material, which is available to authorized users.
Abstract
Background
Current conventional chemotherapy for acute myeloid leukemia (AML) can achieve remission in over 70% of patients, but a majority of them will relapse within 5 years despite continued treatment. The relapse is postulated to be due to leukemia stem cells (LSCs), which are different from normal hematopoietic stem cells (HSCs). LIN28B is microRNA regulator and stem cell reprogramming factor. Overexpression of LIN28B has been associated with advance human malignancies and cancer stem cells (CSCs), including AML. However, the molecular mechanism by which LIN28B contributes to the development of AML remains largely elusive.
Methods
We modulated LIN28B expression in AML and non-leukemic cells and investigated functional consequences in cell proliferation, cell cycle, and colony-forming assays. We performed a microarray-based analysis for LIN28B-silencing cells and interrogated gene expression data with different bioinformatic tools. AML mouse xenograft model was used to examine the in vivo function of LIN28B.
Results
We demonstrated that targeting LIN28B in AML cells resulted in cell cycle arrest, inhibition of cell proliferation and colony formation, which was induced by de-repression of let-7a miRNA. On the other hand, overexpression of LIN28B promoted cell proliferation. Data point to a mechanism where that inhibition of LIN28B induces metabolic changes in AML cells. IGF2BP1 was confirmed to be a novel downstream target of LIN28B via let-7 miRNA in AML. Notably, ectopic expression of LIN28B increased tumorigenicity, while silencing LIN28B led to slow tumor growth in vivo.
Conclusions
In sum, these results uncover a novel mechanism of an important regulatory signaling, LIN28B/let-7/IGF2BP1, in leukemogenesis and provide a rationale to target this pathway as effective therapeutic strategy.