01.12.2014 | Research | Ausgabe 1/2014 Open Access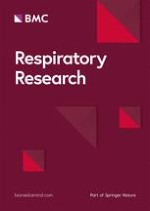 Inhibition of mTORC1 induces loss of E-cadherin through AKT/GSK-3β signaling-mediated upregulation of E-cadherin repressor complexes in non-small cell lung cancer cells
Zeitschrift:
Autoren:

Eun Young Kim, Arum Kim, Se Kyu Kim, Hyung Jung Kim, Joon Chang, Chul Min Ahn, Yoon Soo Chang
Wichtige Hinweise
Electronic supplementary material
The online version of this article (doi:
10.​1186/​1465-9921-15-26
) contains supplementary material, which is available to authorized users.
Competing interests
The authors declare that they have no competing interests.
Authors' contributions
EYK participated in the design of the study, reviewed clinical data, carried out the IRB process, immunocytochemistry, qRT-PCR, and the manuscript draft. AK carried out the molecular genetic studies and data analysis. SKK participated in the study design, statistical assistance, and interpretation of the data. HJK, JC, and CMA participated in the study design. YSC conceived the study, and participated in its design and coordination and helped to draft the manuscripts. All authors read and approved the final manuscript.
Abstract
Background
mTOR, which can form mTOR Complex 1 (mTORC1) or mTOR Complex 2 (mTORC2) depending on its binding partners, is frequently deregulated in the pulmonary neoplastic conditions and interstitial lung diseases of the patients treated with rapalogs. In this study, we investigated the relationship between mTOR signaling and epithelial mesenchymal transition (EMT) by dissecting mTOR pathways.
Methods
Components of mTOR signaling pathway were silenced by
sh
RNA in a panel of non-small cell lung cancer cell lines and protein expression of epithelial and mesenchymal markers were evaluated by immunoblotting and immunocytochemistry. mRNA level of the E-cadherin repressor complexes were evaluated by qRT-PCR.
Results
IGF-1 treatment decreased expression of the E-cadherin and rapamycin increased its expression, suggesting hyperactivation of mTOR signaling relates to the loss of E-cadherin. Genetic ablation of rapamycin-insensitive companion of mTOR (Rictor), a component of mTORC2, did not influence E-cadherin expression, whereas genetic ablation of regulatory-associated protein of mTOR (Raptor), a component of mTORC1, led to a decrease in E-cadherin expression at the mRNA level. Increased phosphorylation of AKT at Ser473 and GSK-3β at Ser9 were observed in the Raptor-silenced NSCLC cells. Of the E-cadherin repressor complexes tested, Snail, Zeb2, and Twist1 mRNAs were elevated in raptor-silenced A549 cells, and Zeb2 and Twist1 mRNAs were elevated in Raptor-silenced H2009 cells. These findings were recapitulated by treatment with the GSK-3β inhibitor, LiCl. Raptor knockdown A549 cells showed increased expression of N-cadherin and vimentin with mesenchymal phenotypic changes.
Conclusions
In conclusion, selective inhibition of mTORC1 leads to hyperactivation of the AKT/GSK-3β pathway, inducing E-cadherin repressor complexes and EMT. These findings imply the existence of a feedback inhibition loop of mTORC1 onto mTORC2 that plays a role in the homeostasis of E-cadherin expression and EMT, requiring caution in the clinical use of rapalog and selective mTORC1 inhibitors.