01.12.2017 | Research article | Ausgabe 1/2017 Open Access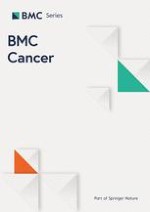 Inhibition of Six1 affects tumour invasion and the expression of cancer stem cell markers in pancreatic cancer
Zeitschrift:
Autoren:

Tristan Lerbs, Savita Bisht, Sebastian Schölch, Mathieu Pecqueux, Glen Kristiansen, Martin Schneider, Bianca T. Hofmann, Thilo Welsch, Christoph Reissfelder, Nuh N. Rahbari, Johannes Fritzmann, Peter Brossart, Jürgen Weitz, Georg Feldmann, Christoph Kahlert
Wichtige Hinweise
Electronic supplementary material
The online version of this article (doi:
10.​1186/​s12885-017-3225-5
) contains supplementary material, which is available to authorized users.
Abstract
Background
Epithelial-to-mesenchymal transition (EMT) and cancer stem cells (CSC) contribute to tumour progression and metastasis. Assessment of transcription factors involved in these two mechanisms can help to identify new targets for an oncological therapy. In this study, we focused on the evaluation of the transcription factor Six1 (Sine oculis 1). This protein is involved in embryologic development and its contribution to carcinogenesis has been described in several studies.
Methods
Immunohistochemistry against Six1 was performed on a tissue microarray containing specimens of primary pancreatic ductal adenocarcinomas (PDAC) of 139 patients. Nuclear and cytoplasmic expression was evaluated and correlated to histopathological parameters. Expression of Six1 was inhibited transiently by siRNA in Panc1 and BxPc3 cells and stably by shRNA in Panc1 cells. Expression analysis of CDH1 and Vimentin mRNA was performed and cell motility was tested in a migration assay. Panc1 cells transfected with Six1 shRNA or scrambled shRNA were injected subcutaneously into nude mice. Tumour growth was observed for four weeks. Afterwards, tumours were stained against Six1, CD24 and CD44.
Results
Six1 was overexpressed in the cytoplasm and cellular nuclei in malignant tissues (
p
< 0.0001). No correlation to histopathological parameters could be detected. Six1 down-regulation decreased pancreatic cancer cell motility in vitro. CDH1 and vimentin expression was decreased after inhibition of the expression of Six1. Pancreatic tumours with impaired expression of Six1 showed significantly delayed growth and displayed loss of the CD24
+
/CD44
+
phenotype.
Conclusion
We show that Six1 is overexpressed in human PDAC and that its inhibition results in a decreased tumour progression in vitro and in vivo. Therefore, targeting Six1 might be a novel therapeutic approach in patients with pancreatic cancer.