17.10.2016 | Original Contributions | Ausgabe 4/2017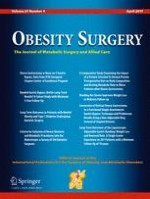 Initial Approach to Childhood Obesity in Spain. A Multisociety Expert Panel Assessment
Zeitschrift:
Autoren:

Ramon Vilallonga, José Manuel Moreno Villares, Diego Yeste Fernández, Raquel Sánchez Santos, Felipe Casanueva Freijo, Francisco Santolaya Ochando, Nuria Leal Hernando, Albert Lecube Torelló, Luis Antonio Castaño González, Albert Feliu, Gontrand Lopez-Nava, Dolores Frutos, Antonio J. Torres Garcia, Juan Carlos Ruiz de Adana
Wichtige Hinweise
Represented societies' original names.
1. Sociedad Española de Cirugía de la Obesidad y enfermedades metabólicas (SECO)
2. Asociación Española de Pediatría (AEP)
3. Sociedad Española de Endocrinología y Nutrición (SEEN)
4. Asociación Española de Cirugía (AEC—Sección de obesidad)
5. Sociedad Española para el Estudio de la Obesidad (SEEDO)
6. Sociedad Española de Patología Digestiva (SEPD)
7. Consejo General de la Psicología de España.
8. Sociedad Española de Cirugía Pediátrica (SECP)
9. Sociedad Española de Endocrinología Pediátrica (SEEP)
Represented societies' translated names (translated into English)
1. Spanish Society for Surgery of Obesity (SECO)
2. Spanish Association of Pediatrics (AEP)
3. Society of Endocrinology and Nutrition (SEEN)
4. Spanish Association of Surgery (AEC—Section obesity)
5. Spanish Society for the Study of Obesity (SEEDO)
6. Spanish Society of Digestive Pathology (SEPD)
7. General Council of the Psychology of Spain
8. Society of Pediatric Surgery (SECP)
9. Spanish Society of Pediatric Endocrinology (SEEP)
Abstract
Purpose
In recent years, the incidence of childhood obesity in Europe, and Spain in particular, has increased dramatically. Bariatric surgery could play a major role in treating of adolescents with severe obesity. However, no specific guidelines for bariatric surgery currently exist in Spain.
Methods
The Board of the Spanish Society for Obesity Surgery and Metabolic Diseases (SECO) proposed a study of childhood obesity by using the Delphi method. This prospective study involved 60 experts from nine national societies. Each society leader recruited experts from their society in obesity-related fields. Two online questionnaires were taken, and consensus on guidelines for various obesity treatments was reached according to the percentage of answers in favor or against inclusion of a given guideline. Based on these results, preoperative, surgical management and follow-up of childhood obesity management among others were analyzed.
Results
The survey results indicated significant concern among all societies regarding obesity. There was strong consensus with regard to adolescents and obesity, medical treatment, dietary recommendations, environmental and social factors, and goals for adolescents with obesity. Consensus on the use of intragastric balloons and other techniques was not reached. However, biliopancreatic diversion was rejected as a primary treatment, and mandatory psychological/psychiatric assessment was agreed upon. Inclusion criteria accepted were similar to those for adults with the exception of surgery in those with a body mass index <40.
Conclusions
Spanish obesity-related societies are aware of the societal problem of childhood obesity. Multisociety development of national approaches may arise from consensus-building studies among specialists.