30.04.2018 | Magnetic Resonance | Ausgabe 10/2018 Open Access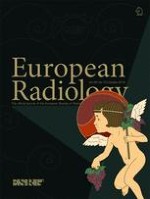 Initial experience of an investigational 3T MR scanner designed for use on neonatal wards
Zeitschrift:
Autoren:

Paul D. Griffiths, Deborah Jarvis, Leanne Armstrong, Daniel J. A. Connolly, Pauline Bayliss, Julie Cook, Anthony R. Hart, Elizabeth Pilling, Tamanna Williams, Martyn N. J. Paley
Abstract
Objectives
MR imaging of neonates is difficult for many reasons and a major factor is safe transport to the MR facilities. In this article we describe the use of a small, investigational 3-T MR customised for brain imaging and sited on a neonatal unit of a tertiary centre in the UK, which is in contrast to a 300-m journey to the whole-body MR scanner used at present for clinical cases.
Methods
We describe our methods for preparing babies for safe transport and scanning on an investigational 3-T MR scanner on a neonatal unit and the development of appropriate MR sequences. The MR scanner does not have CE marking at present so this early development work was undertaken on normal neonates whose parents consented to a research examination.
Results
Fifty-two babies were scanned and there were no serious adverse events. The MR examinations were considered to be diagnostically evaluable in all 52 cases and in 90% the imaging was considered to be at least as good as the quality obtained on the 1.5-T scanner currently used for clinical cases.
Conclusion
We have shown that this investigational 3-T MR scanner can be used safely on a neonatal unit and we have refined the MR sequences to a point that they are clinically usable.
Key Points
• Access to neonatal MR imaging is limited.
• We describe an investigational 3-T MR scanner site on a neonatal unit.
• The scanner produces images suitable for clinical practice.