01.12.2014 | Review | Ausgabe 1/2014 Open Access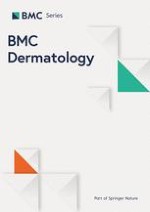 Innate lymphoid cells and the skin
Zeitschrift:
Autoren:

Maryam Salimi, Graham Ogg
Wichtige Hinweise
Electronic supplementary material
The online version of this article (doi:
10.​1186/​1471-5945-14-18
) contains supplementary material, which is available to authorized users.
Competing interests
The authors declare that they have no competing interests.
Authors' contributions
MS and GO wrote the manuscript and approved the final submitted version.
Abbreviations
TSLP
Thymic stromal lymphopoietin
FALC
Fat associated lymphoid clusters
KLRG1
Killer-cell lectin like receptor G1
COPD
Chronic obstructive pulmonary disease
GALT
Gut associated lymphoid tissues
ROR
Receptor tyrosine kinase-like orphan receptor.
Introduction
Innate lymphoid cells
Recent advances in the field of immunology have identified a novel family of CD45 expressing haematopoietic effector cells. These cells have phenotypical features of lymphoid cells but lack rearranged antigen specific surface receptors of adaptive immune cells and are termed innate lymphoid cells (ILCs) [
1
]. ILCs are essential for lymphoid organogenesis, metabolism, tissue homeostasis and repair, protection against viral and helminth infections [
2
–
4
]. They reside in the blood, spleen, intestine, liver, fat associated lymphoid clusters (FALC), and mesenteric lymph nodes of humans and mice. Their development depends on the expression of the transcriptional repressor Id2 that regulates the activity of helix-loop-helix protein E47 and RORC. Cytokines that signal through the common γ chain of IL-2 receptor and Jak3 are essential for their maintenance.
ILCs are thought to be able to influence adaptive immune responses as they reside in the interface of T and B cell zones in the splenic follicles of mice and can express co-stimulatory molecules essential for T cell priming and survival, including CD40 ligand and CD30 ligand [
5
]. Each distinct functional subset produces cytokines that were previously thought to be specific to adaptive immune system lineages. Based on their cytokine profile and functional characteristics, they can be divided into three main groups [
1
], although recent studies on lineage relationships and common precursors of ILCs make this classification debatable [
6
].
Review
Conclusions
In the skin, innate lymphoid cells comprise ILC1, ILC2 and ILC3 populations [
41
,
46
,
47
]. Group 2 innate lymphoid cells express CD45, CRTH2 and IL-7Rα while negative for common lineage markers. Bearing receptors for epithelial cytokines and lipid mediators, they produce IL-13, IL-5, IL-4 and IL-9 in response to IL-33, IL-25, TSLP and PGD2 [
39
,
40
]. In the skin, ILC2s express skin homing markers and play a role in type 2 mediated inflammation. Indeed, a higher frequency of ILC2 with an activated phenotype was observed in the lesional skin biopsies of patients with atopic dermatitis and established mouse models of atopic dermatitis supported their contribution to the pathogenesis of this disease [
39
,
42
,
45
]. Therefore ILC2s and their activating cytokines or lipid mediators may be new targets for the treatment of atopic dermatitis.
Although research in the field of innate lymphoid cells is moving at a fast pace, many important questions regarding the role of ILC in health and disease still remain unanswered. Detailed interactions of ILC2 with other cell types, including epithelial cells, keratinocytes, fibroblasts, and other cells of the innate and adaptive immune systems would provide a better understanding of the extent of their contribution to homeostatic conditions and disease pathogenesis. Detailed evaluation of signals and mechanisms that regulate ILC activation and inhibition during and after the onset of inflammation and epithelial dysfunction, would help us to identify specific targets for therapeutic interventions.
Acknowledgements
We are grateful for funding from the MRC, Barrie Trust and the NIHR Biomedical Research Centre Programme for funding. We also acknowledge the support of the National Institute for Health Research Clinical Research Network.
This article is published under license to BioMed Central Ltd. This is an Open Access article distributed under the terms of the Creative Commons Attribution License (
http://​creativecommons.​org/​licenses/​by/​4.​0
), which permits unrestricted use, distribution, and reproduction in any medium, provided the original work is properly credited. The Creative Commons Public Domain Dedication waiver (
http://​creativecommons.​org/​publicdomain/​zero/​1.​0/​
) applies to the data made available in this article, unless otherwise stated.
Competing interests
The authors declare that they have no competing interests.
Authors' contributions
MS and GO wrote the manuscript and approved the final submitted version.