01.08.2020 | Ausgabe 2/2020 Open Access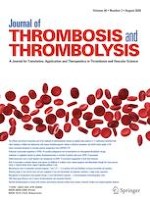 Inpatient and outpatient treatment patterns of cancer-associated thrombosis in the United States
Zeitschrift:
Autoren:

J. D. Guo, P. Hlavacek, T. Poretta, G. Wygant, D. Lane, M. Gorritz, X. Wang, C. C. Chen, R. L. Wade, X. Pan, J. Rajpura, B. Stwalley, L. Rosenblatt
Wichtige Hinweise
Electronic supplementary material
Publisher's Note
Springer Nature remains neutral with regard to jurisdictional claims in published maps and institutional affiliations.
Abstract
Low molecular weight heparins (LMWHs) and direct oral anticoagulants (DOACs) are among the recommended treatment options for cancer-associated thrombosis (CAT) in the 2019 National Comprehensive Care Network guidelines. Little is known about the current utilization of DOACs in CAT patients, particularly on the inpatient to outpatient therapy transition. This study assessed real-world treatment patterns of CAT in hospital/ED in adult cancer patients (≥ 18 years) diagnosed with CAT during a hospital visit in IQVIA's Hospital Charge Data Master database between July 1, 2015 and April 30, 2018, and followed their outpatient medical and pharmacy claims to evaluate the initial inpatient/ED and outpatient anticoagulants received within 3 months post-discharge. Results showed that LMWH and unfractionated heparin (UFH) were the most common initial inpatient/ED CAT treatments (35.2% and 27.4%, respectively), followed by DOACs (9.6%); 20.8% of patients received no anticoagulants. Most DOAC patients remained on DOACs from inpatient/ED to outpatient settings (71.4%), while 24.1%, 43.5%, and 0.1% of patients treated with LMWH, warfarin, or UFH respectively, remained on the same therapy after discharge. In addition, DOACs were the most common initial post-discharge outpatient therapy. Outpatient treatment persistence and adherence appeared higher in patients using DOACs or warfarin versus LMWH or UFH. This study shows that DOACs are used as an inpatient/ED treatment option for CAT, and are associated with less post-discharge treatment switching and higher persistence and adherence. Further research generating real-world evidence on the role of DOACs to help inform the complex CAT clinical treatment decisions is warranted.