13.12.2018 | Psychiatrics • Original Article | Ausgabe 1/2019 Open Access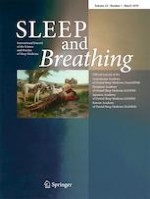 Insomnia and cardiorespiratory fitness in a middle-aged population: the SCAPIS pilot study
Zeitschrift:
Autoren:

Ding Zou, Heini Wennman, Örjan Ekblom, Ludger Grote, Daniel Arvidsson, Anders Blomberg, Kjell Torén, Göran Bergström, Mats Börjesson, Jan Hedner
Wichtige Hinweise
Electronic supplementary material
Ding Zou and Heini Wennman contributed equally to this work.
Comments
This study shows in a relatively large cohort of the middle-aged population (50–64 years) the small but for public health relevant effect of lower cardiorespiratory fitness in men with insomina independent of physical activity sedentary time. The reason of non-association in women remains unclear and should be a focus in further research.
Bernd Wolfarth
Berlin, Germany
Publisher's note
Springer Nature remains neutral with regard to jurisdictional claims in published maps and institutional affiliations.
Abstract
Background
The relationship between insomnia and cardiorespiratory fitness (CRF), a well-established risk factor for cardiovascular disease, has not been extensively studied. We aimed to assess the independent association between insomnia and CRF in a population-based cohort of subjects aged 50 to 64 years.
Methods
Subjects participating in the Swedish CArdioPulmonary bioImaging Study (SCAPIS) pilot cohort (
n
 = 603, men 47.9%) underwent a submaximal cycle ergometer test for estimation of maximal oxygen consumption (VO
2
max). Data on physical activity and sedentary time were collected via waist-worn accelerometers. An insomnia severity index score ≥ 10 was used to define insomnia.
Results
Insomnia was identified in 31.8% of the population. The VO
2
max was significantly lower in insomnia subjects compared with the non-insomnia group (31.2 ± 6.3 vs. 32.4 ± 6.5 ml* kg
−1
*min
−1
,
p
 = 0.028). There was no difference in objectively assessed physical activity or time spent sedentary between the groups. In a multivariate generalized linear model adjusting for confounders, an independent association between insomnia status and lower VO
2
max was found in men, but not in women (
β
 = − 1.15 [95% CI − 2.23–− 0.06] and − 0.09 [− 1.09–0.92],
p
 = 0.038 and 0.866, respectively).
Conclusions
We found a modest, but significant, association between insomnia and lower CRF in middle-aged men, but not in women. Our results suggest that insomnia may link to cardiovascular disease via reduced CRF. Insomnia may require a specific focus in the context of health campaigns addressing CRF.