01.12.2016 | Research article | Ausgabe 1/2016 Open Access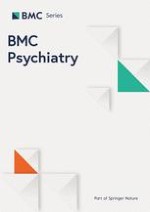 Insomnia and the risk of depression: a meta-analysis of prospective cohort studies
Zeitschrift:
Autoren:

Liqing Li, Chunmei Wu, Yong Gan, Xianguo Qu, Zuxun Lu
Abbreviations
CNKI
China national knowledge infrastructure
DIS
Difficulties in initiating sleep
DMS
Difficulties in maintaining sleep
DSM-IV-TR
Diagnostic and statistical manual of mental disorders
GBD
Global burdens of disease
HPA
Hypothalamic–pituitary–adrenal
MOOSE
Meta-analysis of observational studies in epidemiology
Background
Depression is a common mental disorder and is described as a continuum ranging from a few depressive symptoms to major depression [
1
]. It is one of the leading global burdens of disease (GBD) and is estimated to be one of the top three health concerns by 2020 [
2
,
3
]. Some evidence showed that 5.8 % of men and 9.5 % of women would experience a depressive episode in any given year for a lifetime [
4
]. Among older adults in Japan, depression is one of the most common diseases and is a leading cause of morbidity and mortality [
5
,
6
].
Insomnia is the subjective feeling of having difficulties initiating or maintaining sleep (DIS and DMS respectively, jointly referred to as DIMS) or of non-restorative sleep (NRS) [
7
,
8
]. Epidemiological studies have shown that 20 to 35 % of the general population report insomnia symptoms, and that 10 to 20 % have clinically significant insomnia syndrome [
9
–
13
]. Insomnia prevalence has been found to be associated with measurements of worse physical and mental health [
14
].
Both insomnia and depression are major public health problems. It has been reported that insomnia is associated with an increased risk of depression and/or anxiety disorders [
9
,
15
]. The identification of modifiable risk factors for depression has a greatly important implication for the primary prevention. Many observational studies have focused on whether insomnia has an influence on depression risk [
9
,
16
–
23
]. In 2011, Baglioni et al. [
24
] performed a meta-analysis to investigate the association between insomnia and the risk of depression, and the results showed that an overall odds ratio (OR) for insomnia to predict depression of 2.60 (95 % confidence interval (CI):1.98–3.42). Since then, many new observational studies have emerged, and some of them had large sample sizes and long follow-up lengths. In addition, the previous review only conducted a subgroup analysis by different age groups of participants. The incidences and the risk factors for depression might vary with the definitions of depression and the exposure changes, or vary in samples from different gender, follow-up durations, and geographic regions. Including more studies and enlarging the sample size would be important for strengthening the reliability of describing the association between insomnia and depression risk. Therefore, we conducted an updated-analysis to further investigate the issue.
Methods
Results
Discussion
The results of this meta-analysis of 34 prospective cohort studies showed that insomnia was significantly associated with an increased risk of depression. The pooled estimates (RR = 2.27; 95 % CI: 1.89–2.71) indicated that participants with insomnia, compared to those free of it, experienced more than two-fold risk to develop depression. Furthermore, the association remained significant in most subgroup analyses.
Comparison with previous study
Our findings were approximately consistent with those from the meta-analysis by Baglioni et al. in 2011 [
24
], which also showed that sleep difficulty was significantly associated with depression. The results of this current meta-analysis generally concur and further complement the findings of previous review in several important aspects. The present meta-analysis included 15 new prospective cohort studies with larger sample sizes and many more cases, which significantly enhanced the statistical power to detect potential association between insomnia and depression risk. Additionally, the previous review did not investigate any subgroups other than age. More importantly, compared with the previous review, the OR was corrected to more approximately the true RR in the present study, therefore our risk estimate is more accurate and a reliable. Of note, the associations differed among populations of different ethnic backgrounds were investigated in the present study. The current meta-analysis showed that the increased risk was more pronounced for participants from the United States than for European participants. However, no statistically significant association was observed in Australian populations, which might result from the limited number of included studies (two studies comprising 13,323 participants). In order to make the finding generalize to other populations, more studies are warranted to be conducted in other populations from Asia, Africa and South America.
There were several possible biological mechanisms through which insomnia in general may increase the risk of depression. Sleep disturbance may play a key role in the development of depression. Experimental studies showed that sleep loss may result in cognitive and affective alterations that lead to depression risk [
55
]. Alternatively, sleep disturbance impaired emotional regulation and stability [
59
] and may alter neural processes that may result in the symptomatology of depression [
60
]. Secondly, sustained arousal and chronic activation of hyperactivity of the hypothalamic–pituitary–adrenal (HPA) axis, the major neuroendocrine mediator of stress response, have been suggested as playing a vital role in the development of depression in insomniacs with objective short sleep duration [
14
,
61
]. Finally, other proposed mechanisms by which insomnia might increase the risk of depression included increasing levels of inflammatory markers, such as C-reactive protein and interleukin-6 (IL-6) [
62
–
64
], which indicated low-level systemic inflammation was a predictor of depression development [
65
].
Long-term, double-blind, randomized controlled trials provided the best evidence on the effect between insomnia and depression. Recently, the study by Gosling et al. [
66
] showed that an internet-based insomnia intervention would indeed reduce the risk of depression. The role of insomnia treatment in modulating subsequent risk of depression needs to be studied further.
Strengths and limitations
Our review is very valuable and crucial though it is an updated meta-analysis. First, our review added more than 3 times as many participants as the previous review, which provided stronger and more sufficient evidence. Second, the prospective nature of the included studies avoided the influence of recall and selection bias. Third, more studies from additional areas other than the North America and Europe were included, which increased the generalizability. Fourth, we did stratified analyses to explore whether the results were influenced by some confounding factors, and the consistent results from the sensitivity and subgroup analyses indicated that our findings were reliable and robust.
There are also some limitations in this meta-analysis. Firstly, the accuracy of our results might be influenced by the differences of the measurement criteria of insomnia and depression. However, no significant differences among groups were observed for the type of insomnia and depression measurement in this study. Secondly, we were unable to independently summarize the evidence of individual types of insomnia symptoms on depression risk due to no sufficient information in the original studies. Thirdly, although we extracted the most fully adjusted risk estimates, the adjusted confounders varied among the included studies. Some important confounding factors that might influence the relationship between insomnia and depression risk were gender, age, smoking, education, alcohol or drug abuse, other somatic or psychiatric disease, medication status, and social status. These important confounders were not fully adjusted in some of the included studies, which might influence the accuracy of the results. Finally, publication bias were detected, however, we used trim-and-fill method to correct the bias, which did not alter the significant positive association between insomnia and depression risk.
Based on our findings, we suggest that future research in this field is warranted, especially the long-term prospective cohort studies about the association between individual insomnia symptoms and depression. In addition, more interventional studies are necessary to explore the underlying mechanisms that link insomnia and depression.
Conclusions
In conclusion, this meta-analysis supports the hypothesis that insomnia is associated with an increased risk of depression. Considering the increasing prevalence of insomnia worldwide and the heavy burdens of depression, the results of our study provide practical and valuable clues for the prevention of depression and the study of its etiology.
Acknowledgments
We thank all the authors of the studies included in our meta-analysis.
Funding
No funding was received for this systematic review.
Availability of data and materials
The data sets supporting the results of this article are included within the article.
Authors' contributions
LQL and ZXL conceived the study. CMW and YG searched and checked the databases according to the inclusion and exclusion criteria. LQL and ZXL helped to develop search strategies. CMW and YG extracted the data and assessed their quality. CMW, YG and XGQ analyzed the data. CMW gave advice on meta-analysis methodology. LQL wrote the draft of the paper. All authors contributed to reviewing or revising the paper and read and approved the final manuscript. ZXL is the guarantor of this work and had full access to all the data in the study and takes responsibility for its integrity and the accuracy of the data analysis.
Competing interests
The authors declare that they have no competing interests.
Consent for publication
Not applicable.
Ethics approval and consent to participate
Ethical approval is not required for this review.
Open Access
This article is distributed under the terms of the Creative Commons Attribution 4.0 International License (
http://​creativecommons.​org/​licenses/​by/​4.​0/​
), which permits unrestricted use, distribution, and reproduction in any medium, provided you give appropriate credit to the original author(s) and the source, provide a link to the Creative Commons license, and indicate if changes were made. The Creative Commons Public Domain Dedication waiver (
http://​creativecommons.​org/​publicdomain/​zero/​1.​0/​
) applies to the data made available in this article, unless otherwise stated.