01.12.2015 | Study protocol | Ausgabe 1/2015 Open Access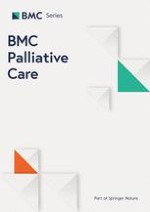 INSPIRE (
IN

vestigating

S

ocial and

P

ract

I

cal suppo

R

ts at the

E

nd of life): Pilot randomised trial of a community social and practical support intervention for adults with life-limiting illness
Zeitschrift:
Autoren:

Kathleen McLoughlin, Jim Rhatigan, Sinead McGilloway, Allan Kellehear, Michael Lucey, Feargal Twomey, Marian Conroy, Emillio Herrera-Molina, Suresh Kumar, Mairead Furlong, Joanne Callinan, Max Watson, David Currow, Christopher Bailey
Wichtige Hinweise
Competing interests
The authors declare no competing interests.
Authors' contributions
KMcL and JR conceived the GNP Intervention and designed this study with the support of AK, SK, DC, EH who have been involved in developing and testing similar models in other jurisdictions. KMcL and SMcG developed the protocol and drafted this paper which was subsequently reviewed and redrafted based on the feedback of all authors. MF and JC assisted in the development of methodology associated with Phase 0. All authors (with the exception of MF and JC) were involved in the application for funding for this study. KMcL, JR, ML, MC, FT and SMcG prepared the application for ethical approval. All authors read and approved the final manuscript.
Abstract
Background
For most people, home is the preferred place of care and death. Despite the development of specialist palliative care and primary care models of community based service delivery, people who are dying, and their families/carers, can experience isolation, feel excluded from social circles and distanced from their communities. Loneliness and social isolation can have a detrimental impact on both health and quality of life. Internationally, models of social and practical support at the end of life are gaining momentum as a result of the Compassionate Communities movement. These models have not yet been subjected to rigorous evaluation. The aims of the study described in this protocol are: (1) to evaluate the feasibility, acceptability and potential effectiveness of The Good Neighbour Partnership (GNP), a new volunteer-led model of social and practical care/support for community dwelling adults in Ireland who are living with advanced life-limiting illness; and (2) to pilot the method for a Phase III Randomised Controlled Trial (RCT).
Design
The INSPIRE study will be conducted within the Medical Research Council (MRC) Framework for the Evaluation of Complex Interventions (Phases 0–2) and includes an exploratory two-arm delayed intervention randomised controlled trial. Eighty patients and/or their carers will be randomly allocated to one of two groups: (I) Intervention: GNP in addition to standard care or (II) Control: Standard Care. Recipients of the GNP will be asked for their views on participating in both the study and the intervention. Quantitative and qualitative data will be gathered from both groups over eight weeks through face-to-face interviews which will be conducted before, during and after the intervention. The primary outcome is the effect of the intervention on social and practical need. Secondary outcomes are quality of life, loneliness, social support, social capital, unscheduled health service utilisation, caregiver burden, adverse impacts, and satisfaction with intervention. Volunteers engaged in the GNP will also be assessed in terms of their death anxiety, death self efficacy, self-reported knowledge and confidence with eleven skills considered necessary to be effective GNP volunteers.
Discussion
The INSPIRE study addresses an important knowledge gap, providing evidence on the efficacy, utility and acceptability of a unique model of social and practical support for people living at home, with advanced life-limiting illness. The findings will be important in informing the development (and evaluation) of similar service models and policy elsewhere both nationally and internationally.