18.07.2015 | Original Article | Ausgabe 2/2016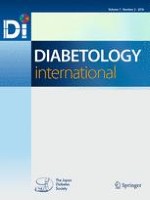 Insulin degludec versus insulin glargine, both once daily as add-on to existing orally administered antidiabetic drugs in insulin-naive Japanese patients with uncontrolled type 2 diabetes: subgroup analysis of a pan-Asian, treat-to-target phase 3 trial
Zeitschrift:
Autoren:

T. Osonoi, Y. Onishi, T. Nishida, J. Hyllested-Winge, Y. Iwamoto
Abstract
Insulin degludec (IDeg) is a novel basal insulin analogue with an ultralong duration of action that provides flat and stable reductions in blood glucose. The BEGIN ONCE ASIA trial was a phase 3 pan-Asian study examining the efficacy and safety of IDeg once daily (OD) versus insulin glargine (IGlar) OD in insulin-naive patients with type 2 diabetes (T2D). In this multinational, 26-week, open-label, treat-to-target trial, participants were randomised (2:1) to IDeg OD or IGlar OD, administered with one or more antidiabetic drugs (OAD) per os. Here we report the results from a post hoc analysis of Japanese patients enrolled in the trial [
n
= 133; 63.2 % male; mean age 61.0 years; mean body mass index 24.1 kg/m
2
; mean glycosylated haemoglobin (HbA
1c
) 8.5 %]. After 26 weeks, mean HbA
1c
levels were similar between the two groups [estimated mean treatment difference 0.11 %; 95 % confidence interval (CI) −0.09, 0.31]. Confirmed hypoglycaemia was reported in 53.4 and 61.4 % of patients in the IDeg OD and IGlar OD groups [rate ratio (IDeg/IGlar) 0.87; 95 % CI 0.51, 1.48]. Confirmed nocturnal hypoglycaemia was reported in 17.0 and 22.7 % of patients in the IDeg OD and IGlar OD groups, respectively [rate ratio (IDeg/IGlar) 0.50; 95 % CI 0.19, 1.32]. Adverse event rates were similar between treatment groups. Initiating insulin treatment with IDeg OD in Japanese patients with T2D, inadequately maintained on OADs and requiring treatment intensification, provided effective glycaemic control with low rates of confirmed and nocturnal confirmed hypoglycaemia.