01.12.2017 | Research | Ausgabe 1/2017 Open Access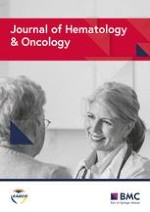 Integrated analysis identifies microRNA-195 as a suppressor of Hippo-YAP pathway in colorectal cancer
Zeitschrift:
Autoren:

Min Sun, Haibin Song, Shuyi Wang, Chunxiao Zhang, Liang Zheng, Fangfang Chen, Dongdong Shi, Yuanyuan Chen, Chaogang Yang, Zhenxian Xiang, Qing Liu, Chen Wei, Bin Xiong
Wichtige Hinweise
Electronic supplementary material
The online version of this article (doi:
10.​1186/​s13045-017-0445-8
) contains supplementary material, which is available to authorized users.
Abbreviations
EMT
Epithelial mesenchymal transition
PANT
Paired adjacent normal tissue
PPI
Protein-protein interaction network
qRT-PCR
Quantitative reverse transcription polymerase chain reaction
TAZ
Transcriptional coactivator with PDZ-binding motif
Background
Colorectal cancer (CRC) has been the fourth leading cause of cancer death worldwide for several decades [
1
]. The 5-year survival rate for localized stage CRC is 90%, whereas as CRC spreads to the regional lymph nodes or distant parts of the body, the 5-year survival rate plunges from 71% to 13% in the United States [
2
]. These malignancies are ascribed to accumulation of genetic alterations, including dissemination of proto-oncogenes, losing or inactivating of tumor suppressor genes, and EMT, which ultimately lead to tumor evolution and progression [
3
–
7
].
Using the miRNA expression profile, dysregulated microRNAs (miRNA/miR) in CRC can be identified. Specific miRNAs have been suggested as biomarkers for CRC pathogenesis, metastasis, recurrence, and as potential therapeutic targets [
8
]. Previous research, by examining a series of CRC microRNAs expression profile data, recommended several deregulated miRNAs, but most failed to identify efficient miRNA biomarkers. Furthermore, few mechanistic studies address the question of how miRNA drives the alterations of the hallmark CRC signaling pathways [
9
]. For a collective set of deregulated miRNAs, experimental validation is still lacking, and the potential mRNA targets of these miRNAs and their regulatory mechanisms remain unknown. The multicenter sequencing of 1893 carcinoma/normal paired samples revealed that miR-195-5p was a tumor-suppressing miRNA and was downregulated in tumor tissues [
10
]. Since predicted targets of miR-195-5p were enriched for the Hippo/YAP signaling pathway, we hypothesize that miR-195-5p may function by targeting the
YAP1
mRNA. Recent studies showed that YAP and its transcriptional coactivator with PDZ-binding motif (TAZ) function as a nexus on the crosstalk of multiple signaling pathways, and therefore can be potential therapeutic targets as the chief downstream effectors of the Hippo pathway in a variety of cancers [
11
–
15
]. It was documented that YAP and TAZ overexpression resulted in a trend of shorter survival time by multivariate analysis in CRC [
16
]. However, there have been few studies on miRNAs that regulate the oncogenic alterations in the Hippo signaling pathway.
We performed an integrated analysis and identified significantly disturbed miRNAs by using microRNA sequencing data in primary tumors and paired adjacent normal tissue (PANT), both derived from the CRC patients. We further validated aberrant expression patterns of these miRNAs in the TCGA-COAD dataset [
17
]. We distinguished miR-195-5p as a clinically noteworthy miRNA in CRC as found in lung cancer [
18
]. We confirmed that the miR-195-5p level was high in patients with favorable survival in TCGA, and may play a critical role in CRC tumorigenesis. Ectopic expression of miR-195-5p could significantly reduce proliferation, migration, invasion, and EMT in two colon cancer cell lines, DLD1 and HCT116. We showed for the first time that the full-length 3′-UTR of the human
YAP1
mRNA was a direct target of miR-195-5p. These data offer a plausible mechanism accounting for the tumor-suppressing function of miR-195-5p, further supporting the notion that the miR-195-5p/YAP1/EMT axis can be the therapeutic focus for eliminating CRC tumorigenesis [
19
].
Methods
Search strategy and data collection, preprocessing, and normalization
Public microarray repositories were curated to search through the PubMed, GEO (accession numbers GSE33124, GSE35982, GSE33122, GSE35834, GSE33125, GSE33123, GSE68306, GSE35834, GSE41655, GSE41012, GSE73178, GSE54632, GSE68377, GSE48267, GSE54088, GSE45349, GSE38389, GSE28364, GSE7828, GSE35602, GSE10259 and GSE49246) and Array Express (accession numbers E-MTAB-96, E-GEOD-35834, E-GEOD-28364 and E-MTAB-2479) through September 2015 (the full-detailed search strategy and search terms are shown in Additional file
1
: Table S1). The reference sections of the regained studies were analyzed for additional pertinent papers. The checklist and pipeline for properly organizing the integrated analysis were decided as recommended by Ramasamy, via the reporting guidelines of microarray meta-analysis [
20
]. Only original experimental studies that screened for different miRNAs between CRC and PANT in humans were the first choice for inclusion. Additional criteria for selection dictated that the included datasets should contain at least 30 samples of CRC and PANT correspondingly. Exclusion criteria included: (1) repeated reports by the same institute, hospital; (2) a non-expression gene chip; and (3) a non-whole-genome chip. All datasets were normalized individually on the base-2 logarithm by Robust Multi-Array Average (RMA) and Linear Models for Microarray (LIMMA) package and annotated by converting different probe IDs to gene IDs. All miRNA names were standardized according to miRBase version 17 via miRBase Tracker and consisted with TCGA for subsequent validation [
21
]. Any probe that did not map to a gene ID was removed as viral miRNAs or non-miRNA probes.
Integrated analysis of miRNAs expression datasets
To identify differentially expressed (DE) miRNAs between CRC and PANT, we used MetaOmics software (
http://​www.​pitt.​edu/​~tsengweb/​MetaOmicsHome.​htm
) executed as a MetaDE package [
22
]. For integrated analysis, the mean and standard deviation (SD) filter thresholds were specified as 10%. Considering the different stringencies of the methods, Fisher's method was performed for statistical analysis of significance: a modified
t
test and permutation method were used to extrapolate the
P
values [
23
]. One-sided tests were applied to classify the upregulated or downregulated DE miRNAs. A
P
value less than 0.05 was considered statistically significant for the DE miRNAs.
Integrated-signature miRNA analysis of TCGA
The results of integrated analysis of miRNAs expression datasets were validated in the TCGA datasets. TCGA-COAD miRNA data and clinical data (level 3) of the corresponding patients (tumor and/or adjacent normal tissue) were downloaded from the TCGA Data portal (up to May 20, 2016). The expression analyses were carried out using BRB-ArrayTools (version 4.5, National Cancer Institute, Bethesda, MD, USA) [
24
].
Target prediction and functional analysis of miRNA
Tissue collection
Sixty human CRC tissues and PANT (distance to cancer > 5 cm) were acquired from patients who had been diagnosed with primary CRC by pathological assessment of tissues and undergone surgeries with complete prognostic information at the Zhongnan Hospital of Wuhan University between January 2011 and December 2015. No local or systemic neoadjuvant radiotherapy, or/and chemotherapy and targeted therapy were managed. The study was approved by the Research Ethics Committee of Wuhan University (Wuhan, Hubei, PR China). Informed consents were obtained from all participating patients.
Cell culture and transfection of miR-195 mimic, inhibitor, and siRNA of target gene
Human colon cancer cell lines DLD1 and HCT116, and normal intestinal epithelium cell line NCM460 were purchased from the Cell Bank of Wuhan University. Cells were cultured in DMEM medium (Gibco, USA) containing 2 mmol/L glutamine, 10% heat-inactivated (56 °C, 30 min) fetal calf serum, streptomycin (100 U/mL) and penicillin (100 U/mL), and maintained in a humidified atmosphere of 5% CO 2 at 37 °C. Hsa-miR-195 mimic and mimic negative control (NC), hsa-miR-195 inhibitor, and inhibitor negative control (NC) were purchased from RiboBio Co., Ltd. (Guangzhou, China). Cells were cultured in complete medium at least 24 h before transfection. Cells were washed by phosphate-buffered saline (PBS, pH 7.4) before transient transfection with 50 nM miR-195-5p mimic or miR mimic NC, 100 nM miR-195-5p inhibitor or miR inhibitor NC. Three siRNA duplexes targeting human YAP1 (GenBank accession no. NM_001130145.2) were synthesized by RiboBio Company (Guangzhou, China). Transfections were performed by Lipofectamine 2000 (Invitrogen, USA) according to the manufacturer's protocol with RNA oligonucleotides at a final concentration of 50 nM.
Total RNA extraction and quantitative reverse transcription polymerase chain reaction (qRT-PCR)
Total RNA was extracted using a Trizol reagent (Invitrogen). For the qRT-PCR detection of mature miR-195-5p expression, we purchased the Bulge-Loop™ miRNA qRT-PCR Primer Set and Control Primer Set (RiboBio, Guangzhou, China). RNA (2 μg) was converted into cDNA using the RevertAid First Strand cDNA Synthesis Kit (Thermo). QRT-PCR was accomplished using the FastStart Universal SYBR Green Master (Rox) (Roche) in the ABI PRISM ® 7300 real-time PCR system (Applied Biosystems, Foster City, CA, USA). GADPH and U6 were used as endogenous controls. We used melting curves to monitor non-specific amplifications. Relative expression level was computed using 2 -ΔΔCt method. The primer sequences used are listed in Supplemental Experimental Procedures.
Tumor formation in BALB/c nude mice and immunohistochemistry
BALB/c athymic nude mice (female, 4 – 6 weeks old and 16 – 20 g) were purchased from Hubei Research Center of Laboratory Animals (Wuhan, China). All animal experiments were carried out in accordance with the Guide for the Care and Use of Laboratory Animals of Wuhan University. To establish the CRC cancer xenograft model, 5 × 10
6
DLD1 cells were suspended in 150 μL PBS and inoculated subcutaneously into the flanks of the nude mice. After 8 days, the transplanted nude mice were randomly divided into two groups (
n
 = 6 each). MiR-195-5p agomir or miR agomir NC (RiboBio Co., Ltd, Guangzhou, China) was directly injected into the implanted tumor at the dose of 2 nmol/30μL PBS per mouse every 4 days for seven times. Tumor dimension was measured by length (L) and width (W) with a caliper every 4 days, and the volumes were calculated using the formula: (L × W
2
)/2. Mice were sacrificed by cervical dislocation after being anaesthetized with 10% chloral hydrate at day 36, and the tumors were excised and snap-frozen for protein and RNA extraction. Immunohistochemistry of the tumor tissues was performed as described previously [
26
].
Statistical analysis
The significance of the differences between the groups was determined with an ANOVA test or Student's
t
test, and
P
 < 0.05 was considered statistically significant. The results were expressed as the mean ± SD from at least three independent experiments. Kaplan-Meier method and Cox's proportional hazards regression model were used to calculate overall survivals, and the differences were analyzed by a log-rank test. Receiver operating characteristic (ROC) curve analysis was performed using the code of Mihaly (Additional file
2
: Supplemental R script) by R Software (version 3.2.3;
http://​www.​r-project.​org
) [
27
].
Supplemental experimental procedures include the following information: dual luciferase reporter assays, BrdU immunofluorescence assay, colony formation assay, CCK8 assay, wound healing assay in vitro, transwell migration/invasion assay, transfection reagents, primers, western blot analysis, and antibody (Additional file
3
: Supplemental Experimental Procedures).
Results
Discussion
Our current study supports the validity and effectiveness of this integrated strategy. Firstly, reduced expression of miR-195-5p in primary CRC was revealed independently by both integrated analysis and TCGA-COAD validation analysis, suggesting miR-195-5p can be an effective diagnostic and prognostic marker in the clinical setting. Secondly, ectopic expression of miR-195-5p in colon cancer cell lines considerably decreased cell growth, migration, and invasion. Thirdly, miR-195-5p can directly regulate expression of YAP1 by targeting its 3′-UTR. It can inhibit expression of YAP1, TAZ, Vimentin, ZEB2, and SMAD3, and promote E-cadherin expression in colon cancer cells. Finally, miR-195-5p suppressed tumor growth in vivo.
Conclusions
In summary, we have performed integrated analysis of miRNomes of human normal colorectum and CRC tissues, which provided us rich resources for exploring the roles of miRNAs in CRC. Four downregulated miRNAs (hsa-let-7a, hsa-miR-125b, hsa-miR-145, and hsa-miR-195) can be potentially useful diagnostic markers in the clinic. Among them, only miR-195 is inversely correlated with overall survival in CRC patients. We have demonstrated that miR-195-5p is dramatically downregulated in human CRC tissues compared with normal colorectal tissues. Moreover, upregulation of miR-195-5p suppresses proliferation, migration, invasion, and EMT of colon cancer cells through targeting the
YAP1
mRNA 3′-UTR. Collectively, miR-195-5p suppresses tumor cell growth in vitro and tumorigenicity in vivo. Our study may serve as rational for targeting the miR-195-5p/YAP interaction in a novel therapeutic application to medicate CRC patients.
Acknowledgements
The authors would like to thank Prof. Min Zhao from Basic Medical Sciences of Wuhan University and Xinyi Zhao from Biological Information Sciences of Zhejiang University, for analyzing the miRNAs expression data. They also thank Wenlou Liu from Wuhan University for his technical assistance with the immunohistochemistry. They also thank Biqin Tan from Zhejiang University for the critical reading of the manuscript.
Funding
This work was supported by grants from the National Natural Science Foundation of China (Grant No. 81572874). The funders had no role in study design, data collection and analysis, decision to publish, or preparation of the manuscript.
Availability of data and materials
The data supporting our findings can be found in the supplementary data.
Authors' contributions
MS,BX,HS, and SW participated in the research design. MS, HS, CZ, LZ, and ZX conducted the experiments. MS, HS, CZ, and LX contributed the new reagents or analytic tool. MS, MZ, XZ, and HS performed the data analysis. MS,BX,HS, and SW wrote or contributed to the writing of the manuscript. All authors read and approved the final manuscript.
Competing interest
The authors declare that they have no competing interests.
Consent for publication
Not applicable.
Ethics approval and consent to participate
The research protocol was reviewed and approved by the Ethics Committee of Wuhan University, and informed consent was obtained from all participants included in the study, in agreement with institutional guidelines.
Publisher's Note
Springer Nature remains neutral with regard to jurisdictional claims in published maps and institutional affiliations.
Open Access
This article is distributed under the terms of the Creative Commons Attribution 4.0 International License (
http://​creativecommons.​org/​licenses/​by/​4.​0/​
), which permits unrestricted use, distribution, and reproduction in any medium, provided you give appropriate credit to the original author(s) and the source, provide a link to the Creative Commons license, and indicate if changes were made. The Creative Commons Public Domain Dedication waiver (
http://​creativecommons.​org/​publicdomain/​zero/​1.​0/​
) applies to the data made available in this article, unless otherwise stated.