01.12.2017 | Research | Ausgabe 1/2017 Open Access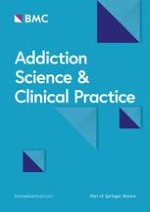 Integrated HIV care is associated with improved engagement in treatment in an urban methadone clinic
Zeitschrift:
Autoren:

Claire Simeone, Brad Shapiro, Paula J. Lum
Abbreviations
EMR
electronic medical record
HIV
human immunodeficiency virus
OST
opioid substitution therapy
OTOP
Opiate Treatment Outpatient Program
SPSS
statistical package for the social sciences
Background
At our urban methadone clinic, we developed a quality-improvement tracking system to monitor patients along the HIV care continuum in order to evaluate retention in care and viral suppression for our HIV-infected patients. A second goal of our tracking system was to identify patients who did not meet retention and viral suppression criteria and target those patients for interventions in order to improve treatment success. The purpose of this study was to evaluate patient outcomes associated with OTOP's HIV Care Continuum and explore the relationship of HIV primary care site and patient demographic characteristics with retention in treatment and viral suppression.
Methods
We reviewed electronic medical record (EMR) data from 2015 for all OTOP patients with known HIV disease (n = 73) including age, gender, race, HIV care sites, HIV care visit dates and HIV viral load. Patients who left OTOP treatment before the final month of the study year (n = 5) or whose medical records were in a different healthcare system and unavailable (n = 3) were excluded, leaving 65 patients in the final analysis.
Retention was defined as having an HIV primary care visit in both halves of the study year. Viral Suppression (VS) was defined as having an HIV viral load <40 copies/ml at the last determination within the study year (2015). Patients who had their most recent viral load prior to 2015 were classified as not meeting viral suppression criteria. Primary care visit dates and viral load values were transformed into dichotomous variables (yes/no) for meeting the indicator criteria. Age was categorized as <45 and ≥45 years old. Race was extracted from the patient profile in the medical record and was collapsed into three categorical variables (African American, Caucasian and other) to allow for statistical analysis with the small sample size. Site of care was also collapsed into three categorical variables (methadone clinic, HIV clinic and community clinics). Using IBM SPSS [
18
], data were analyzed with Fisher's exact test. Expedited IRB approval for this study was granted by the University of California San Francisco Committee on Human Research as a retrospective records review without subject contact or consent.
Results
The study population was mostly male, over the age of 45 and non-Caucasian (Table
1
). Among all patients diagnosed with HIV in treatment at OTOP at the end of the study year who were eligible for analysis (n = 65), 50 (77%) met retention criteria and 52 (80%) were virologically suppressed. Viral suppression was significantly higher for women (
p
= .022) and patients 45 years or older (
p
= .034). A larger proportion of patients receiving care at the methadone clinic compared to the HIV specialty clinic or community clinics were retained in care (93 vs. 74 vs. 63%,
p
= .150) and achieved viral suppression (93 vs. 79 vs. 62%,
p
= .164), although these comparisons did not reach statistical significance.
Table 1
Outcomes by demographic characteristics
Characteristic

Variable (N)

Retention in carea

N (%)

Viral suppressionb

N (%)

Yes

No

Yes

No

Gender

Female (24)

19 (79%)

5 (21%)

23 (96%)*

1 (4%)

Male (41)

31 (76%)

10 (24%)

29 (71%)

12 (29%)

Age

<45 years (12)

8 (64%)

4 (33%)

6 (50%)*

6 (50%)

≥45 years (53)

43 (81%)

10 (19%)

43 (81%)

10 (19%)

Race

African American (27)

20 (74%)

7 (26%)

21 (78%)

6 (22%)

Caucasian (26)

20 (77%)

6 (23%)

17 (65%)

9 (35%)

Other (12)

11 (92%)

1 (8%)

11 (92%)

1 (8%)

Site of care

Methadone clinic (15)

14 (93%)

1 (7%)

14 (93%)

1 (7%)

HIV clinic (42)

31 (74%)

11 (26%)

33 (79%)

9 (21%)

Community clinics (8)

5 (62%)

3 (38%)

5 (62%)

3 (38%)
Discussion
Finally, HIV prevalence among OTOP patients (11%) may be higher than expected when compared with city and national prevalence among PWID alone (San Francisco 12%, USA 11%). The fact that OTOP enrolls persons with opioid use disorder who do not inject drugs in addition to people who do, as well as the anticipated HIV prevention impact of our city's longstanding commitment to syringe service programs and a policy of substance use treatment on demand (factors associated with decreased risk for HIV transmission), suggests we might find a lower prevalence among OTOP patients. Possible explanations for OTOP's HIV prevalence could be a high level of sexual risk behavior among our patient population or a greater tendency for people living with HIV and opioid use disorder to enter methadone treatment programs compared with their HIV uninfected counterparts. Further research is needed to explore these hypotheses.
This report has a number of limitations. Conducted as part of a quality improvement project, this descriptive study relied on retrospective chart reviews as data sources. Not only is our study design unable to establish causal relationships, but also the analysis is constrained by the types of variables available in the medical record. In addition, our analysis was limited by the group size of OTOP's HIV-infected population in the study year. A challenge with a sample size of n = 68 is that fairly large differences need to be observed in order to reach statistical significance, which may be much larger than what we might think of as a clinically significant difference. This is evident in the differences we found in our analyses. An analysis with larger numbers of patients could be conducted by a consortium of methadone treatment programs offering integrated models of care to further examine our findings. Despite these limitations, our analysis provides valuable information about engagement in care for HIV-infected patients with opioid use disorder and a foundation from which to build individualized, targeted interventions.
Conclusions
Retention in HIV care and viral suppression are high in this urban, publicly-funded, non-profit methadone clinic with integrated HIV primary care services. In addition to finding that female and older patients had significantly higher rates of viral suppression, this research supports the benefit of integrating HIV primary care and support services with methadone treatment services for this at-risk population.
Authors' contributions
CS conceived and designed the study, collected, analyzed and interpreted the data, and drafted the manuscript. BS contributed to the study design and conception, interpretation of data and drafting and revising the manuscript. PL contributed to the study design and conception, interpretation of data and drafting and revising the manuscript. All authors read and approved the final manuscript.
Acknowledgements
The authors would like to thank the following individuals and organizations for their support of this project: OTOP patients and staff, Dr. Jacqueline Tulsky, Dr. Laura Samuel, Johns Hopkins School of Nursing, Ryan White Care Act, SBIRT Interdisciplinary Training Program (1U79TI025386-01, PI: Dawson-Rose) from SAMHSA, the Association for Medical Education and Research in Substance Abuse, the Marguerite Aue Rankin Graduate Education Scholarship and the Jonas Center for Nursing and Veterans Healthcare for scholarship support.
Competing interests
The authors declare that they have no competing interests.
Availability of data
The datasets generated and analyzed during this study are not publicly available due to the protection of patient health information but are available as de-identified data from the corresponding author on reasonable request.
Ethics approval and consent to participate
The University of California San Francisco Committee on Human Research granted expedited approval to this study (IRB #12-09010) on 06/15/2012 with renewal on 05/12/2016. Consent to participate was not required as the study was a post hoc analysis of de-identified data.
Funding
The study was unfunded.
Publisher's Note
Springer Nature remains neutral with regard to jurisdictional claims in published maps and institutional affiliations.
Open Access
This article is distributed under the terms of the Creative Commons Attribution 4.0 International License (
http://​creativecommons.​org/​licenses/​by/​4.​0/​
), which permits unrestricted use, distribution, and reproduction in any medium, provided you give appropriate credit to the original author(s) and the source, provide a link to the Creative Commons license, and indicate if changes were made. The Creative Commons Public Domain Dedication waiver (
http://​creativecommons.​org/​publicdomain/​zero/​1.​0/​
) applies to the data made available in this article, unless otherwise stated.