12.08.2016 | Essay | Ausgabe 1/2017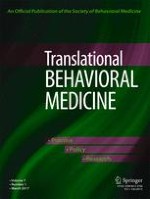 Integrating knowledge across domains to advance the science of health behavior: overcoming challenges and facilitating success
Zeitschrift:
Autoren:

PhD William M . P. Klein, Emily G. Grenen, MA Mary O'Connell, PhD, MPH Danielle Blanch-Hartigan, PhD, MPH Wen-Ying Sylvia Chou, PhD Kara L. Hall, PhD Jennifer M. Taber, PhD, MHS Amanda L. Vogel
Wichtige Hinweise
With the exception of the first three authors (who led the manuscript and/or NCI meeting described herein), order of authorship is alphabetical.
We thank all of the speakers and panelists in the NCI-sponsored meeting on "Leveraging Lessons Learned across Health Behaviors" in November 2014 (Cynthia Berg, David Buller, Meg Gerrard, Frederick Gibbons, Robert Hornik, Michael Sayette, Bonnie Spring, and Geoffrey Williams). We also thank Juanita Cox and Tonza Webb for their assistance with meeting planning, Tracey Goldner for assistance with manuscript preparation, and two anonymous reviewers for helpful comments on an earlier version of the manuscript.
Researchers
: We suggest that researchers consider getting training and doing research on more than one health behavior to maximize integration.
Practitioners
: Attempts to change single health behaviors are likely to be informed by research on different but related behaviors.
Policymakers
: Policies designed to influence particular behaviors may be informed by research showing effects of policies on other health behaviors.
Abstract
Health behaviors often co-occur and have common determinants at multiple levels (e.g., individual, relational, environmental). Nevertheless, research programs often examine single health behaviors without a systematic attempt to integrate knowledge across behaviors. This paper highlights the significant potential of cross-cutting behavioral research to advance our understanding of the mechanisms and causal factors that shape health behaviors. It also offers suggestions for how researchers could develop more effective interventions. We highlight barriers to such an integrative science along with potential steps that can be taken to address these barriers. With a more nuanced understanding of health behavior, redundancies in research can be minimized, and a stronger evidence base for the development of health behavior interventions can be realized.