10.11.2017 | Original Article | Ausgabe 1/2018 Open Access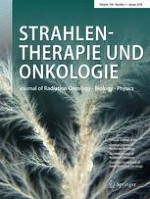 Intensified preoperative chemoradiation by adding oxaliplatin in locally advanced, primary operable (cT3NxM0) rectal cancer
Impact on long-term outcome. Results of the phase II TAKO 05/ABCSG R‑02 trial
Zeitschrift:
Autoren:

P. Kogler, A. F. DeVries, W. Eisterer, J. Thaler, L. Sölkner, MD, MAS, MSc, FACS D. Öfner, on behalf of TAKO 05/ABCSG R-02 Trial Investigators
Wichtige Hinweise
ClinicalTrials.gov number, NCT00297141
The investigators participating in the Tyrolean Oncology Working Group Trial 05 (TAKO 05) and Austrian Breast and Colorectal Cancer Study Group Trial R‑02 (ABCSG R‑02) are listed in the appendix.
Abstract
Purpose
The major goals of preoperative treatment for locally advanced rectal cancers (LARCs) are improvement of local tumor control, tumor downsizing, and downstaging. Modifications with respect to standardized chemoradiation protocol, e. g., integrating oxaliplatin, are realized with the aim of improving primary tumor response and patient outcome.
Patients and methods
In this phase II multicenter study, patients with LARC of the mid- or lower rectum, cT3cNxcM0 as staged by MRI, were included and treated preoperatively with a combination of capecitabine and oxaliplatin following a standardized protocol during radiation. The focus of this long-term analysis was overall (OS) and disease-free survival (DFS).
Results
A total of 60 patients (19 women, 41 men, median age 60.5 years) were initially enrolled, 1 patient was excluded (violation of study protocol), and 1 was patient lost of follow-up, leading to a total of 58 patients for long-term analysis. The 3‑year OS was 85.5%; 3‑year DFS 71.2%. Over time, 15 patients (25.9%) developed tumor recurrence (1 locoregional, 6.7%; 11 distant, 73.3%; 3 locoregional+distant, 20%). Recurrence-specific therapy was planned in the majority of patients, in 9 of 15 patients (60%) with a radical surgical approach. Of these, 4 patients (44.4%) are again tumor-free at the end of investigation. While tumor downsizing (T level) or pathologically complete response did not influence patient survival, lymph node negativity (LNneg) after preoperative chemoradiation showed significant influence.
Conclusion
LNneg after preoperative treatment for LARC significantly influences patient survival. A radical surgical approach for recurrent LARC (locoregional, distant) should be contemplated when possible as we were able to clearly demonstrate its importance and efficacy.