01.12.2014 | Review | Ausgabe 1/2014 Open Access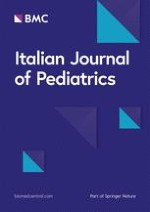 Inter-society consensus document on treatment and prevention of bronchiolitis in newborns and infants
Zeitschrift:
Autoren:

Eugenio Baraldi, Marcello Lanari, Paolo Manzoni, Giovanni A Rossi, Silvia Vandini, Alessandro Rimini, Costantino Romagnoli, Pierluigi Colonna, Andrea Biondi, Paolo Biban, Giampietro Chiamenti, Roberto Bernardini, Marina Picca, Marco Cappa, Giuseppe Magazzù, Carlo Catassi, Antonio Francesco Urbino, Luigi Memo, Gianpaolo Donzelli, Carlo Minetti, Francesco Paravati, Giuseppe Di Mauro, Filippo Festini, Susanna Esposito, Giovanni Corsello
Wichtige Hinweise
Competing interests
The authors declare no conflict of interest for the present document.
Authors' contributions
EB, ML, PM and GC conceived this document. EB, ML, PM, GR, SV, AR and GC revised literature and prepared the draft of the document. CS, PC, AB, PB, GC, RB, MP, MC, GM, CC, AFU, LM, GD, CM, FP, GDM, FF, SE made critical revision of the article. All authors read and approved the final manuscript. This article was prepared in collaboration with CR, PC, AB, PB, GC, RB, MP, MC, GM, CC, AFU, LM, GD, CM, FP, GDM, FF, SE.
Abstract
Acute bronchiolitis is the leading cause of lower respiratory tract infection and hospitalization in children less than 1 year of age worldwide. It is usually a mild disease, but some children may develop severe symptoms, requiring hospital admission and ventilatory support in the ICU. Infants with pre-existing risk factors (prematurity, bronchopulmonary dysplasia, congenital heart diseases and immunodeficiency) may be predisposed to a severe form of the disease.
Clinical diagnosis of bronchiolitis is manly based on medical history and physical examination (rhinorrhea, cough, crackles, wheezing and signs of respiratory distress). Etiological diagnosis, with antigen or genome detection to identify viruses involved, may have a role in reducing hospital transmission of the infection.
Criteria for hospitalization include low oxygen saturation (<90-92%), moderate-to-severe respiratory distress, dehydration and presence of apnea. Children with pre-existing risk factors should be carefully assessed.
To date, there is no specific treatment for viral bronchiolitis, and the mainstay of therapy is supportive care. This consists of nasal suctioning and nebulized 3% hypertonic saline, assisted feeding and hydration, humidified O2 delivery. The possible role of any pharmacological approach is still debated, and till now there is no evidence to support the use of bronchodilators, corticosteroids, chest physiotherapy, antibiotics or antivirals. Nebulized adrenaline may be sometimes useful in the emergency room. Nebulized adrenaline can be useful in the hospital setting for treatment as needed. Lacking a specific etiological treatment, prophylaxis and prevention, especially in children at high risk of severe infection, have a fundamental role. Environmental preventive measures minimize viral transmission in hospital, in the outpatient setting and at home. Pharmacological prophylaxis with palivizumab for RSV bronchiolitis is indicated in specific categories of children at risk during the epidemic period.
Viral bronchiolitis, especially in the case of severe form, may correlate with an increased incidence of recurrent wheezing in pre-schooled children and with asthma at school age.
The aim of this document is to provide a multidisciplinary update on the current recommendations for the management and prevention of bronchiolitis, in order to share useful indications, identify gaps in knowledge and drive future research.