01.12.2017 | Research | Ausgabe 1/2017 Open Access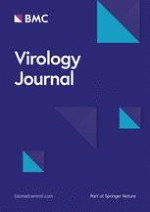 Interferon-γ-inducible protein 16 (IFI16) is required for the maintenance of Epstein-Barr virus latency
Zeitschrift:
Autoren:

Gina Pisano, Arunava Roy, Mairaj Ahmed Ansari, Binod Kumar, Leela Chikoti, Bala Chandran
Abbreviations
ASC
Apoptosis-associated speck-like protein containing CARD
IFA
Immunofluorescence analysis
IFI16
Interferon-γ-inducible 16
KSHV
Kaposi's sarcoma associated herpesvirus
TGF-β
Transforming growth factor-β
TPA
12-O-tetradecanoyl-phorbol-13-acetate
Background
Methods
Cells
The EBV-positive, latently I-infected cell lines Akata and MUTU-1 and the EBV-negative cell line BJAB (all BL cell lines) were cultured in RPMI 1640 GlutaMAX (ThermoFisher, Waltham, MA), supplemented with 10% (vol/vol) fetal bovine serum (FBS; Atlanta Biologicals, GA) and 1% penicillin-streptomycin (ThermoFisher, Waltham, MA). All cell types used for the present studies had routine mycoplasma testing done by a Lonza Myco-Alert kit (LT37–618; Lonza, Walkersville, MD), as per manufacturer's instructions, and only mycoplasma negative cells were used in these studies.
Antibodies and reagents
The following antibodies were used in Western blotting and immunofluorescence studies: anti-IFI16 (mouse) and anti-BZLF1; Zebra (mouse) (Santa Cruz Biotechnology, Inc., Santa Cruz, CA); EBV Ea-D p52/p50 and anti-IFI16 (rabbit) (Millipore, Billerica, MA); mouse monoclonal D.1.17.G38 (against gp350/220) was generated in the laboratory [
21
]. Secondary anti-rabbit-IgG and anti-mouse-IgG antibodies linked to horseradish peroxidase, Alexa Fluor-488, and Alexa Fluor-594 were from KPL, Inc., Gaithersburg, MD, or Molecular Probes, Eugene, OR. 12-O-tetradecanoyl-phorbol-13-acetate (TPA) and phosphonoacetic acid (PAA) were purchased from Millipore-Sigma (Billerica, MA). TGF-β was purchased from Sigma-Aldrich (St. Louis, MO).
Induction of the EBV lytic cycle
EBV lytic cycle was induced as described in Table
1
. The EBV genome abundance was quantitated by real-time DNA PCR with primers specific to EBV nuclear antigen-1 (EBNA1) and samples normalized relative to levels of β-tubulin.
Table 1
Details of the inducing agents used in this study
| Inducing Agent | Working Concentration | Time in media | Cell Lines |
| --- | --- | --- | --- |
| TPA | 30 ng/mL | Up to 96 h | Akata & BJAB |
| TGF-β | 5 ng/mL | Up to 96 h | MUTU-1 & BJAB |
siRNA-mediated knockdown and overexpression of IFI16 in B cells
The commercially available SMARTpool siRNA against IFI16 was purchased from Dharmacon (M-020004-01-0010). Akata cells were transfected by electroporation with either siIFI16 or a scrambled siRNA for knockdown studies or with IFI16-FLAG (Addgene; 35,064) or an empty pcDNA3-FLAG vector for overexpression studies, using the Neon transfection system (Life Technologies), according to the manufacturer's instructions and as described previously with minor modifications (26). Briefly, cells were harvested, washed, and resuspended in resuspension buffer R (provided) at a density of 1.0 × 106 cells/mL. 100 μL of the cell suspension was mixed with 100 pmol siRNA or 3 μg of IFI16 DNA and electroporated using 3 pulses of 1500 V for 10 ms. Following electroporation, cells were replaced into complete medium and incubated at 37 °C with 5% CO2 atmosphere. For overexpression studies, 30 ng/mL of TPA was added 4 h after transfection to minimize stress on the cells and incubated for an additional 44 h. For siRNA studies, IFI16 knockdown was confirmed by Western blot and qRT-PCR 48 h post transfection.
Western blot (WB) analysis
Total cell lysates were prepared by lysing in radioimmunoprecipitation assay (RIPA) buffer (50 mM Tris [pH 8.0], 150 mM sodium chloride, 1.0% NP-40, 0.5% sodium deoxycholate, 0.1% SDS) supplemented with a protease inhibitor cocktail (Sigma) for 30 min on ice. Lysates were then sonicated on ice and centrifuged at 13,000 x g for 10 min at 4 °C, followed by protein estimation using a BCA protein assay reagent kit (Pierce, Rockford, IL). Equal concentrations of protein were separated on 7–12% SDS-PAGE gels, transferred to a nitrocellulose membrane, and probed with primary antibodies as indicated. For detection, species-specific horseradish peroxidase or fluorescence-conjugated (Alexa fluor 488-green or 594-red; Thermo Fisher) secondary antibodies were incubated on membranes for 1 h at room temperature and developed using the SuperSignal West Pico chemiluminescent substrate (Thermo Fisher) or scanned using an AlphaImager system (Alpha Innotech Corporation, San Leonardo, CA).
Immunofluorescence microscopy (IFA)
Akata, BJAB, and MUTU-1 cells were fixed and permeabilized with ice-cold acetone, washed, and blocked with Image-iT FX signal enhancer (Invitrogen) for 20 min at room temperature. Cells were then incubated with the indicated primary antibody for 1 h at 37 °C, washed, and incubated with either Alexa Fluor-488 or Alexa Fluor-594 (Thermo Fisher) for 30 min at 37 °C. Next, slides were washed and incubated with SlowFade Gold antifade reagent with DAPI (Invitrogen). A Nikon Eclipse 80i fluorescence microscope was used for imaging and analysis was done with Metamorph imaging software.
RNA purification, reverse transcription, and real-time PCR
RNeasy minikit (Qiagen, Valencia, CA) was used for total cellular RNA isolation as per manufacturer's instructions. On-column DNase digestion was performed by RNase-free DNase set (Qiagen). Following RNA estimation using a NanoDrop spectrophotometer (Thermo Scientific), 1 μg of RNA was used for reverse transcription with the High-Capacity cDNA reverse transcription kit (Thermo Fisher) according to the manufacturer's instructions. Gene expression was examined by real-time quantitative reverse transcription PCR (qRT-PCR) using SYBR green chemistry (Applied Biosystems) on an ABI Prism 7500 detection system (Applied Biosystems). The final mRNA gene levels were normalized to the level of β-tubulin and calculated as the delta-delta threshold cycle (ΔΔ
C
T
). Primers used in this study are listed in Table
2
.
Table 2
Gene functions and mRNA primers used in this study. Primers were designed using EBV genes mapped to the B95.8 genome
| EBV Gene | Temporal Class | Function | Forward primer (5′-3′) | Reverse primer (5′-3′) |
| --- | --- | --- | --- | --- |
| BZLF1 | Immediate early | transcriptional transactivator | ACGACGCACACGGAAACC | CTTGGCCCGGCATTTTCT |
| BALF2 | Early | ssDNA binding protein | GTGAGCTACGCACCCGCCAT | CTGACCGGTTGACTTCG |
| BZLF2 | Late | envelope glycoprotein gp42 | CATCGCACTTGTTATTGTTC | CAGACCTCTACATTTGGTTTG |
| BcRF1 | Late | vIL-10 | GACAAAGGACGAGGTAGATAA | CTCCAGGTAGAATTGGATCATT |
| EBNA1 | Latent | tethers EBV to sister chromatids in host cell | CCGCAGATGACCCAGGAGAA | TGGAAACCAGGGAGGCAAAT |
| IFI16 | n/a | Host protein | CCCAAAGAAGATCATTGCCATAG | GTTTCGGTCAGCATTCACATC |
| β-Tubulin | n/a | Host protein | TCCAGATTGGCAATGCCTG | GGCCATCGGGCTGGAT |
Statistical analysis
Data are expressed as means ± standard deviations (SD) from the results of at least three independent experiments (
n
≥ 3), and the statistical significance was calculated by a two-tailed Student's
t
test. Values were considered significant if the
P
value was <0.05. Immunoblot densitometric quantifications were done using ImageJ software 1.50.
Results
Discussion
Antiviral immunity against foreign, invading pathogens is vital for ensuring the survival of the infected host. Some viruses such as herpesviruses, however, are never cleared, but instead alternate between a lytic and latent state throughout the life of the infected individual. During lytic infection, progeny virus are produced and are recognized by the immune system, resulting in a myriad of cellular responses against the virus.
Conclusions
The findings presented here provide evidence that EBV uses IFI16 to maintain its latent state. We show that IFI16 protein levels decrease following lytic cycle reactivation, implying an important role for IFI16 in the maintenance of latency and as a negative regulator of lytic cycle induction. Importantly, identification of IFI16 in the regulation of EBV latency will provide future insight into treating EBV-related malignancies and the cellular-induced immune control mechanisms that control them.
Acknowledgements
Not applicable
Funding
This study was supported by the RFUMS-H.M. Bligh Cancer Research Fund 6100–2289-1,111,103 to BC. The funder had no role in the study design, data collection, and analysis, decision to publish, or the preparation of this manuscript.
Availability of data and materials
The datasets used and/or analyzed during the current study are available from the corresponding author on reasonable request.
Author's contributions
GP, BK, AR, MAA, and LC participated in the experiments and their analyses. GP drafted the manuscript. All authors read and approved the final manuscript.
Ethics approval and consent to participate
Not applicable
Consent for publication
We have obtained written consent from all participants to publish their data.
Competing interests
The authors declare that they have no competing interests.
Publisher's Note
Springer Nature remains neutral with regard to jurisdictional claims in published maps and institutional affiliations.
Open Access
This article is distributed under the terms of the Creative Commons Attribution 4.0 International License (
http://​creativecommons.​org/​licenses/​by/​4.​0/​
), which permits unrestricted use, distribution, and reproduction in any medium, provided you give appropriate credit to the original author(s) and the source, provide a link to the Creative Commons license, and indicate if changes were made. The Creative Commons Public Domain Dedication waiver (
http://​creativecommons.​org/​publicdomain/​zero/​1.​0/​
) applies to the data made available in this article, unless otherwise stated.