01.12.2018 | Case report | Ausgabe 1/2018 Open Access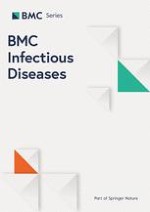 Interferon alpha as antiviral therapy in chronic active Epstein-Barr virus disease with interstitial pneumonia - case report
Zeitschrift:
Autoren:

Jacek Roliński, Ewelina Grywalska, Aleksandra Pyzik, Michał Dzik, Violetta Opoka-Winiarska, Agata Surdacka, Maciej Maj, Franciszek Burdan, Michał Pirożyński, Piotr Grabarczyk, Elżbieta Starosławska
Abstract
Background
Chronic active Epstein-Barr virus (EBV) disease (CAEBV) is defined as a severe, progressive lymphoproliferative disorder associated with active EBV infection persisting longer than 6 months and developing in patients without recognised immunodeficiency. Rarely, interstitial pneumonitis (IP) occurs as a serious complication in CAEBV patients. The standard therapeutic regimen for IP in CAEBV has not yet been defined. Although interferon alpha (IFN-alpha) is known to suppress viral DNA replication by affecting its basal promoter activation process, it is rarely used in CAEBV patients.
Case presentation
A 22-year-old Caucasian woman, diagnosed with CAEBV 1.5 years earlier, was admitted to the Immunology Clinic due to a 4-week history of productive cough, fever and general weakness. Cultures of blood, urine and sputum were negative, but EBV DNA copies were found in the sputum, whole blood, isolated peripheral blood lymphocytes as well as in the blood plasma. Cytokine assessment in peripheral blood revealed the lack of IFN-alpha synthesis. Disseminated maculate infiltrative areas in both lungs were observed on a computed tomography (CT) chest scan. The patient was not qualified for the allogeneic hematopoietic stem cell transplantation (allo-HSCT) due to the risk of immunosuppression-related complications of infectious IP. Inhaled (1.5 million units 3 times a day) and subcutaneous (6 million units 3 times a week) IFN-alpha was implemented. To the best of our knowledge, this was the first documented use of inhaled IFN-alpha in a patient with CAEBV and concomitant IP. Patient's status has improved, and she was eventually qualified to allo-HSCT with reduced conditioning. Currently, the patient feels well, no EBV was detected and further regression of pulmonary changes was documented.
Conclusions
CAEBV should be considered in patients who present with interstitial lung infiltration and involvement of other organs. Although more promising results have been obtained with allo-HSCT, inhaled IFN-alpha may also be a therapeutic option in patients with CAEBV and a concomitant IP.