01.12.2018 | Case report | Ausgabe 1/2018 Open Access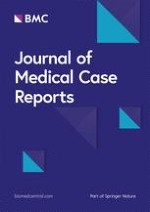 Interleukin-18 as a diagnostic marker of adult-onset Still's disease in older patients: a case report and review of the literature
Zeitschrift:
Autoren:

Daisuke Usuda, Yoshiki Furumura, Kento Takeshima, Ryusho Sangen, Yasuhiro Kawai, Yuji Kasamaki, Yoshitsugu Iinuma, Tsugiyasu Kanda
Abstract
Background
Adult onset Still's disease is a systemic auto-inflammatory condition of unknown etiology characterized by intermittent spiking high fever, an evanescent salmon-pink or erythematous maculopapular skin rash, arthralgia or arthritis, and leukocytosis. Recently, a high level of interleukin-18 has been reported as a new characteristic marker. On the other hand no reports have been published on high interleukin-18 as a marker in older patients. We report a case of adult onset Still's disease in an older patient successfully treated with steroids in which interleukin-18 was a useful marker of disease activity.
Case presentation
A 66-year-old Asian woman presented to our hospital with fever and arthralgia. We diagnosed adult onset Still's disease based on Yamaguchi criteria and a history of a high spiking fever, salmon-colored rash, and bilateral pain to shoulders, knees, and wrists. In this case, a high serum level of interleukin-18 was a diagnostic parameter. Administration of 40 mg of prednisolone followed by subcutaneous administration of 200 mg cyclosporine daily resulted in a dramatic resolution of our patient's febrile episodes 2 months after admission. Prednisolone was tapered to 5 mg/day every 2 weeks and cyclosporine 200 mg/day was continued. Her serum interleukin-18 level was prominently decreased, and she was discharged 3 months after treatment.
Conclusions
Serum interleukin-18 level may be a good diagnostic biomarker to monitor adult onset Still's disease activity in older patients, measuring levels in both the acute and convalescent phases.