25.03.2020 | Review | Ausgabe 5/2020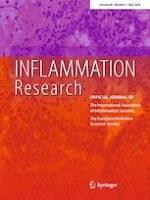 Interleukin 23 and autoimmune diseases: current and possible future therapies
Zeitschrift:
Autoren:

Ahmad Ismail Khaled Abdo, Gee Jun Tye
Wichtige Hinweise
Publisher's Note
Springer Nature remains neutral with regard to jurisdictional claims in published maps and institutional affiliations.
Abstract
Purpose
IL-23 is a central proinflammatory cytokine with a wide range of influence over immune response. It is implicated in several autoimmune diseases due to the infinite inflammatory loops it can create through the positive feedbacks of both IL-17 and IL-22 arms. This made IL-23 a key target of autoimmune disorders therapy, which indeed was proven to inhibit inflammation and ameliorate diseases. Current autoimmune treatments targeting IL-23 are either by preventing IL-23 ligation to its receptor (IL-23R) via antibodies or inhibiting IL-23 signaling by signaling downstream mediators' inhibitors, with each approach having its own pros and cons.
Methods
Literature review was done to further understand the biology of IL-23 and current therapies.
Results
In this review, we discuss the biological features of IL-23 and its role in the pathogenesis of autoimmune diseases including psoriasis, rheumatoid arthritis and inflammatory bowel diseases. Advantages, limitations and side effects of each concept will be reviewed, suggesting several advanced IL-23-based bio-techniques to generate new and possible future therapies to overcome current treatments problems.