03.10.2017 | Original Article | Ausgabe 1/2018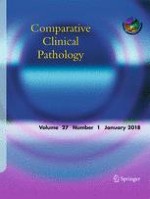 Interleukin-6-572 promoter gene polymorphism and its association with chronic hepatitis C-induced hepatocellular carcinoma: an Egyptian study
Zeitschrift:
Autoren:

Bothina Madkour, Alaa Gad, Mona S. Hamdy, Nariman Zahran, Mohamed Aboul-Ezz
Wichtige Hinweise
Author identifying information:
Dr. Bothina Madkour is a professor of Hematology and the head of TBRI; moreover, she is the principal investigator (PI) of the project; Dr. Nariman Zahran is a professor of Hematology at TBRI and the Co-PI; Dr. Mona Salah is a professor of Hematology department at Kasr Al-Ainy Hospitals, Cairo University, she is the project's consultant. Dr. Alaa Gad is a lecturer of Hematology department at Kasr Al-Ainy hospitals, Cairo University; she participated in this project and was responsible for writing the manuscript of the paper under the supervision of Dr. Bothina, Dr. Nariman, and Dr. Mona Salah. Finally, Dr. Mohamed Aboul-Ezz is an assistant professor of Tropical Medicine at TBRI; he participated in the project by being the clinician responsible for clinical diagnosis of the chosen cases. All authors were responsible for selection of the cases, collection of the patient's samples as well as obtaining the informed consent from the chosen cases. They also participated in doing DNA extraction for gene polymorphism, statistical analysis, and results' interpretation.
Abstract
Hepatocellular carcinoma (HCC) is the most common type of liver cancer, where the risk of its development is always multifactorial. Human interleukin-6 (IL-6) is a pro-inflammatory cytokine that plays a crucial role in the regulation of immune response and defense against viral infection; it was hypothesized that this cytokine may participate in the process of liver damage. The aim of our study was to investigate IL-6-572 C/G gene polymorphism in patients with HCC as compared with healthy controls in an Egyptian population, in order to see if there is a significant association between IL-6 gene polymorphism and susceptibility to HCC development. A total of 165 subjects divided into 55 HCV, 60 HCC, and 50 healthy subjects were enrolled in the study for evaluation. Genomic DNA was extracted from the peripheral blood, and genotyping was performed using RT-multiplex PCR (real-time multiplex polymerase chain reaction) methodology. G/C, G/G, and C/C frequencies in HCV patients were 16.4, 78.2, and 5.5%, respectively; furthermore, the frequencies were 18.3, 75.0, and 6.7% in HCC patients, and 28.0, 62.0, and 10.0% in the control group, respectively. The frequencies of G and C alleles in HCV patients were 86.4 and 13.6% and in HCC patients were 84.2 and 15.8% while in the control group, the frequencies were 76.0 and 24.0%, respectively. There was no significant difference between the studied groups regarding G/C, G/G, and C/C frequencies or G and C allele's frequencies. IL-6-572 promoter gene polymorphism is neither associated with HCV infection nor with development of HCC. Further studies including bigger sample size are suggested.