01.10.2009 | Original Paper | Ausgabe 4/2009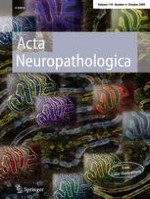 Interleukin-6 and the serotonergic system of the medulla oblongata in the sudden infant death syndrome
Zeitschrift:
Autoren:

Ingvar Jon Rognum, Robin L. Haynes, Ǻshild Vege, May Yang, Torleiv O. Rognum, Hannah C. Kinney
Abstract
Mild infection may trigger sudden death in the vulnerable infant by cytokine interactions with a compromised medullary serotonergic (5-HT) system, leading to disrupted cardiorespiratory regulation and sleep-related sudden death. The cytokine interleukin (IL)-6 is elevated in the cerebrospinal fluid in SIDS. We tested the hypothesis that the expression of IL-6 receptors (IL-6R) and/or gp130 (involved in IL-6R signaling) is altered in the medullary 5-HT system in SIDS. Immunohistochemistry of IL-6R and gp130 was performed on medullae from 25 SIDS infants, 20 infectious deaths, and 14 controls using a semi-quantitative grading system. In the SIDS cases, mean IL-6R intensity grade in the arcuate nucleus (major component of medullary 5-HT system) was significantly higher than in the control group (2.00 ± 0.07 vs. 1.77 ± 0.08,
P
= 0.04), with no other differences in IL-6R or gp130 expression at any other site. Arcuate 5-HT neurons expressed IL-6R, indicating a site of IL-6/5-HT interaction. In SIDS, IL-6R expression is abnormal in the arcuate nucleus, the putative human homolog of rodent ventral medullary chemosensitivity sites involving 5-HT. Aberrant interactions between IL-6 and the arcuate nucleus may contribute to impaired responses to hypercapnia generated by infection (hyper-metabolism) combined with rebreathing.