01.12.2012 | Research | Ausgabe 1/2012 Open Access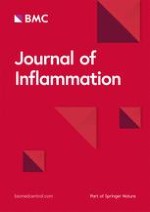 Interleukin-7 receptor blockade suppresses adaptive and innate inflammatory responses in experimental colitis
Zeitschrift:
Autoren:

Cynthia R Willis, Audrey Seamons, Joe Maxwell, Piper M Treuting, Laurel Nelson, Guang Chen, Susan Phelps, Carole L Smith, Thea Brabb, Brian M Iritani, Lillian Maggio-Price
Wichtige Hinweise
Electronic supplementary material
The online version of this article (doi:
10.​1186/​1476-9255-9-39
) contains supplementary material, which is available to authorized users.
Cynthia R Willis, Audrey Seamons contributed equally to this work.
Competing interests
CRW, LN, CLS, JM, and GC were employed by Amgen, Inc. at the time the studies were completed. This work was sponsored by Amgen, Inc. LMP received funding from Amgen, Inc. for portions of the studies conducted at the University of Washington. AS, TB, PT, SP, and BMI declare that they have no competing interests.
Authors' contributions
CRW and AS designed, conducted, analyzed and interpreted data, prepared figures, drafted and revised the manuscript. JM, TB, LMP designed, analyzed and interpreted data, and edited the manuscript. PT performed histopathology analysis and interpretation, and edited the manuscript. LN designed, performed, and analyzed flow cytometry data. GC performed statistical analysis and interpretation and designed the heat maps. SP performed the in vivo portions of the studies and tissue processing. CLS analyzed serum antibody concentrations. BMI contributed to data interpretation and editing of the manuscript. All authors have read and approved this manuscript.
Abstract
Background
Interleukin-7 (IL-7) acts primarily on T cells to promote their differentiation, survival, and homeostasis. Under disease conditions, IL-7 mediates inflammation through several mechanisms and cell types. In humans, IL-7 and its receptor (IL-7R) are increased in diseases characterized by inflammation such as atherosclerosis, rheumatoid arthritis, psoriasis, multiple sclerosis, and inflammatory bowel disease. In mice, overexpression of IL-7 results in chronic colitis, and T-cell adoptive transfer studies suggest that memory T cells expressing high amounts of IL-7R drive colitis and are maintained and expanded with IL-7. The studies presented here were undertaken to better understand the contribution of IL-7R in inflammatory bowel disease in which colitis was induced with a bacterial trigger rather than with adoptive transfer.
Methods
We examined the contribution of IL-7R on inflammation and disease development in two models of experimental colitis:
Helicobacter bilis
(
Hb
)-induced colitis in immune-sufficient
Mdr1a
−/−
mice and in T- and B-cell-deficient
Rag2
−/−
mice. We used pharmacological blockade of IL-7R to understand the mechanisms involved in IL-7R-mediated inflammatory bowel disease by analyzing immune cell profiles, circulating and colon proteins, and colon gene expression.
Results
Treatment of mice with an anti-IL-7R antibody was effective in reducing colitis in
Hb
-infected
Mdr1a
−/−
mice by reducing T-cell numbers as well as T-cell function. Down regulation of the innate immune response was also detected in
Hb
-infected
Mdr1a
−/−
mice treated with an anti-IL-7R antibody. In
Rag2
−/−
mice where colitis was triggered by
Hb
-infection, treatment with an anti-IL-7R antibody controlled innate inflammatory responses by reducing macrophage and dendritic cell numbers and their activity.
Conclusions
Results from our studies showed that inhibition of IL-7R successfully ameliorated inflammation and disease development in
Hb
-infected mice by controlling the expansion of multiple leukocyte populations, as well as the activity of these immune cells. Our findings demonstrate an important function of IL-7R-driven immunity in experimental colitis and indicate that the therapeutic efficacy of IL-7R blockade involves affecting both adaptive and innate immunity.