10.11.2020 | Original Research | Ausgabe 3/2021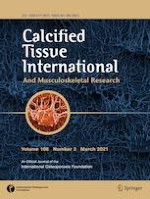 Intermittent PTH Administration Increases Bone-Specific Blood Vessels and Surrounding Stromal Cells in Murine Long Bones
Zeitschrift:
Autoren:

Shen Zhao, Tomoka Hasegawa, Hiromi Hongo, Tomomaya Yamamoto, Miki Abe, Taiji Yoshida, Mai Haraguchi, Paulo Henrique Luiz de Freitas, Minqi Li, Kanchu Tei, Norio Amizuka
Wichtige Hinweise
Electronic supplementary material
Publisher's Note
Springer Nature remains neutral with regard to jurisdictional claims in published maps and institutional affiliations.
Abstract
To verify whether PTH acts on bone-specific blood vessels and on cells surrounding these blood vessels, 6-week-old male mice were subjected to vehicle (control group) or hPTH [1–34] (20 µg/kg/day, PTH group) injections for 2 weeks. Femoral metaphyses were used for histochemical and immunohistochemical studies. In control metaphyses, endomucin-positive blood vessels were abundant, but αSMA-reactive blood vessels were scarce. In the PTH-administered mice, the lumen of endomucin-positive blood vessels was markedly enlarged. Moreover, many αSMA-positive cells were evident near the blood vessels, and seemed to derive from those vessels. These αSMA-positive cells neighboring the blood vessels showed features of mesenchymal stromal cells, such as immunopositivity for c-kit and tissue nonspecific alkaline phosphatase (TNALP). Thus, PTH administration increased the population of perivascular/stromal cells positive for αSMA and c-kit, which were likely committed to the osteoblastic lineage. To understand the cellular events that led to increased numbers and size of bone-specific blood vessels, we performed immunohistochemical studies for PTH/PTHrP receptor and VEGF. After PTH administration, PTH/PTHrP receptor, VEGF and its receptor flk-1 were consistently identified in both osteoblasts and blood vessels (endothelial cells and surrounding perivascular cells). Our findings suggest that exogenous PTH increases the number and size of bone-specific blood vessels while fostering perivascular/stromal cells positive for αSMA/TNALP/c-kit.