01.02.2014 | 2013 SSAT Plenary Presentation | Ausgabe 2/2014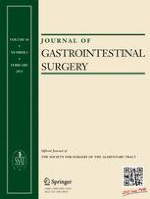 Internal Hernia After Laparoscopic Roux-en-Y Gastric Bypass
Zeitschrift:
Autoren:

Ayman Obeid, Sandre McNeal, Matthew Breland, Richard Stahl, Ronald H Clements, Jayleen Grams
Wichtige Hinweise
This paper was presented as an oral presentation during Digestive Diseases Week during the SSAT Annual Meeting in Orlando, Florida, on May 18–21, 2013.
Discussant
Dr. Thomas Aloia (Houston, TX): This study examines a single-surgeon, large-volume experience with Roux-en-Y gastric bypass. The focus is on the prevention of the postoperative complication of internal hernia. As the technique has evolved, mainly with higher utilization of mesenteric defect closure and anticolic anastomosis, the authors have observed a reduction in internal hernia rates. It is noted that due to issues including geography, access to care, and vigilance on the part of the operative team, there is very thorough long-term follow-up data to address this issue.
Although I am not a bariatric surgeon, I do take general surgery emergency call in a city with over 20 bariatric surgery centers, many of which do not enjoy the rigorous follow-up that returns the sick postoperative patient to their home surgical center, as happens in your area. I have found the presentation and management of this problem to be very difficult, and therefore, I am supportive of any and all maneuvers that can be done to prevent these complications. What I have learned from caring for these patients is that a high level of suspicion for the diagnosis of internal hernia should be held for any post-LRYGB patient with a complaint of abdominal pain, regardless of imaging findings.
Ultimately, I have three questions:
1. The nuances of your technique have evolved over time. Were the individual decisions to change directly driven by an intent to reduce internal hernias or were they aimed at another outcome, such as decreasing operative time, and the reduction of internal hernias was a fortuitous bystander effect?
2. In the discussion, it appears that there is a trend toward consensus that the maneuvers you have adopted do reduce this complication, but a handful of studies are quoted that find no such relationship. Can you explain why surgeons who do not close mesenteric defects do not see problems with internal hernias? Could it be that their follow-up is less rigorous than yours?
3. For the benefit of the trainees, and even the full-fledged nonbariatric surgeons in the audience, can you describe the proper operative approach to the LRYGB patient with an internal hernia?
Closing Discussant
Dr. Ayman Obeid: Thank you for the valuable comments and the intriguing questions.
Regarding your first question, the changes in the practice were indeed made with the intent to reduce the incidence of internal hernias. As a matter of fact, LRYGB evolved from open RYGB, a technique in which retro-colic positioning of the Roux limb was routine practice as well as nonclosure of mesenteric defects. Given more experience with the laparoscopic approach, surgeons began reporting higher internal hernia rates, a complication that was rare with the open approach. Thus, many surgeons, including our practice, started routinely closing these defects with the thought that the higher incidence was due to the decreased adhesion formation in the laparoscopic approach. Again, as more experience was gained with the laparoscopic approach, we learned that most Roux limbs could be positioned in ante-colic fashion without undue tension at the gastro-jejunostomy, especially with splitting of the omentum. This change did have the benefit of eliminating one of the potential hernia sites (mesocolic defect) and potentially decreasing operative time. The shift to closure of the defects and ante-colic Roux limb positioning in our practice actually resulted in an increased total OR time by about 15 min.
With respect to the second question regarding studies that do not advocate for closure of the defects, certainly duration of and compliance with follow-up may play a role. Internal hernia may present at any time from a few months to several years after LRYGB, and we know that long-term follow-up in these patients tends to be poor, with studies reporting 40–70 % loss to follow-up at 2 years. In the study by Finnell et al. in 2007 reporting their rate of internal hernia at 0 % with nonclosure of the defects, the sample size was 300 patients and the follow-up was 18 months (range, 1–44). In their subsequent study by Madan et al. in 2009, the follow-up period was 23.5 months (range, 1–60) in 387 patients. Our overall follow-up was 25 months (range, 1–131) in a sample size of 914 patients. For the patients who developed a symptomatic internal hernia in our cohort, the median follow-up was 56 months (range, 13–113). There was also a difference in how we defined "internal hernia." In their 2009 study, Madan et al. did report that 2/54 (3.7 %) patients had a "potential" defect behind the Roux limb and the defect was closed in one of these two patients. They did not count these as "internal hernias" since they were merely open and potential spaces. In our study, we counted any open defect in a symptomatic patient as an internal hernia. We would also refer you to the Letter to the Editor by Facchiano et al.
26
in
Obesity Surgery
in 2010 for further discussion of the Madan et al. 2009 paper.
Additionally, as you suggested, patients may not return to their home surgical institution for evaluation of complications. In Alabama, we are the major tertiary referral center, and many other centers will not operate on our patients unless on an absolutely emergent basis. Most contact us for transfer, even if >3 h away. Many outside surgeons will also not evaluate our bariatric patients electively (for the chronic presentations), and they end up finding their way back to us as well, even if they were otherwise lost to follow-up.
Lastly, there may be other technical considerations aside from defect closure that may impact the rate of internal hernia and may account for the decreased rates seen with nonclosure of the defects in some studies. Finnell et al. and others have cited other technical considerations such as ante-colic positioning, counterclockwise rotation of the bowel with the jejuno-jejunostomy and ligament of Treitz to the left of the axis of the mesentery, short <50-cm biliopancreatic limb length, minimal division of the small bowel mesentery, a long jejuno-jejunostomy, division of the omentum, and placement of the jejuno-jejunostomy above the colon in the left upper quadrant. In our study, all of these other considerations remained constant with the only change in practice being the position of the Roux limb and closure vs. nonclosure of the defects.
Regarding the proper operative approach to the LRYGB patient with an internal hernia, as you mentioned, the presentation and management of this complication can be very challenging. The most important guiding principle is to maintain a high index of suspicion and to have a low threshold for exploration when evaluating a patient with abdominal pain status post LRYGB. If internal hernia is suspected, we start with a thorough history and physical followed by a CT scan. We as surgeons and our radiologists are experienced in specific signs that may indicate an internal hernia, and the CT scan is specifically examined for these findings: mesenteric swirl, mushroom shape of the mesentery, small bowel obstruction, clustered loops of the small bowel, small bowel behind the SMA, and a right-sided jejuno-jejunostomy. However, as our study demonstrated, CT scan findings were negative in almost 20 % of patients. Thus, even if imaging is negative but clinical suspicion remains high, the patient is taken to the operating room to explore for an internal hernia. In terms of the actual operation, one could explore laparoscopically or open based on the surgeon's comfort. It is usually easiest to identify the ileocecal valve and start running the small bowel from distally to proximally since this portion of the intestine will be decompressed, easier to manipulate, and usually in normal anatomic position. The hernia may reduce as this is being performed. If starting proximally, it can be difficult to sort out the Roux limb from the biliopancreatic limb from the common channel and determine whether and which bowel is herniated. If ante-colic, both potential spaces need to be inspected and closed. If retro-colic, all three potential spaces need to be inspected and closed. We recommend a running nonabsorbable suture for closure.
Abstract
Background
The goal of this study was to determine the impact of mesenteric defect closure and Roux limb position on the rate of internal hernia after laparoscopic Roux-en-Y gastric bypass (LRYGB).
Methods
A retrospective review was conducted of all LRYGB patients from 2001 to 2011 who had all internal hernia (IH) defects closed (DC) or all defects not closed (DnC).
Results
Of 914 patients, 663 (72.5 %) had DC vs. 251 (27.5 %) with DnC, and 679 (74.3 %) had an ante-colic vs. 235 (25.7 %) with a retro-colic Roux limb. Forty-six patients (5 %) developed a symptomatic IH. Of these, 25 (3.8 %) were in the DC vs. 21 (8.4 %) in the DnC group (
p
 = 0.005), and 26 (3.8 %) were in the ante-colic vs. 20 (8.5 %) in the retro-colic Roux limb position (
p
 = 0.005). Data from 45 patients were available for further analysis. The most common symptom was chronic postprandial abdominal pain (53.4 %). All patients underwent CT scan consistent with IH in 26 patients (57.5 %), suggestive in 7 (15.6 %), showing small bowel obstruction in 4 (8.9 %), and negative in 8 (17.8 %).
Conclusions
Closure of mesenteric defects and ante-colic Roux limb position result in a significantly lower IH rate. Furthermore, a high index of suspicion must be maintained since symptoms may be nonspecific and imaging may be negative in nearly 20 % of patients.