25.03.2020 | Original Contributions | Ausgabe 7/2020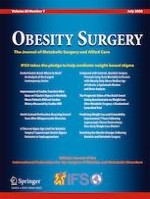 Internal Herniation and Weight Loss in Patients after Roux-en-Y Gastric Bypass
Zeitschrift:
Autoren:

M. M. G. van Berckel, J. C. Ederveen, J. Nederend, S. W. Nienhuijs
Wichtige Hinweise
M. M. G. van Berckel and J. C. Ederveen contributed equally to this work.
Publisher's Note
Springer Nature remains neutral with regard to jurisdictional claims in published maps and institutional affiliations.
Abstract
Purpose
Weight loss is one of the desired outcomes after a gastric bypass, in order to reduce co-morbidity, and even mortality. However, weight loss might contribute to a serious complication: internal herniation (IH). Pre-operative diagnosis of IH is demanding. This study was conducted to investigate if percentage total weight loss (%TWL) is clinically usable in recognizing patients with IH.
Materials and Methods
Patients who had undergone a gastric bypass between 2011 and 2014 were included retrospectively if a CT scan or reoperation was performed for suspected IH between 2011 and 2016. Differences in %TWL were calculated in patients with IH and without (NO-IH). A sub analysis was done in patients with complaints. A multivariate analysis to identify risk factors for IH was performed.
Results
Out of 1007 patients, 31 patients were diagnosed with an IH (3.1%) after a median time of 16.5 months (range 6.5–46.1). The %TWL was higher in patients with an IH (34.2% ± 12.7) vs. NO-IH (30.8% ± 9.6). This result was also seen in patients presenting with symptoms (IH 34.2% ± 12.7 vs. NO-IH 27.0% ± 14.8). If %TWL is above 30%, IH is significantly more diagnosed in patients presenting with symptoms. A multivariate logistic model for IH in patients presenting with symptoms identified both ≥ 30%TWL (adjusted OR 3.1, 95% CI 1.1–8.8,
p =
0.036) and abdominal cramping (adjusted OR 3.2, 95% CI 1.2–8.5,
p =
0.0021) as risk factors.
Conclusion
Our study showed significant more %TWL in patients with an IH. Both ≥ 30%TWL and cramping abdominal pain result in a threefold higher risk of presence of IH.