14.09.2019 | Neurology • Original Article | Ausgabe 4/2019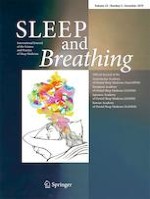 Interobserver reliability of ICSD-3 diagnostic criteria for disorders of arousal in adults
Zeitschrift:
Autoren:

Giuseppe Loddo, Luca Vignatelli, Corrado Zenesini, Francesco Lusa, Luisa Sambati, Luca Baldelli, Valentina Favoni, Laura Rosa Pisani, Giulia Pierangeli, Sabina Cevoli, Federica Provini
Wichtige Hinweise
Electronic supplementary material
Publisher's note
Springer Nature remains neutral with regard to jurisdictional claims in published maps and institutional affiliations.
Abstract
Purpose
Disorders of arousal include confusional arousals, sleepwalking and sleep terrors. The diagnosis of disorders of arousal is based on the clinical criteria established in the International Classification of Sleep Disorders, third edition, although the interobserver reliability of these criteria has never been investigated. The aim of this study was to estimate the inter-rater reliability of the diagnostic criteria for disorders of arousal throughout the whole life in order to understand their feasibility in clinical daily activity and in multicenter observational studies.
Methods
Three raters interviewed 126 subjects (patients complaining of sleep disorders, headache, and healthy subjects), aged 18–80 years, with a standardized questionnaire created by applying the International Diagnostic Criteria for Disorders of Arousal.
Results
An "almost perfect" inter-rater reliability for disorders of arousal criteria and the final diagnosis was found among the raters (kappa 0.89 for confusional arousals, 0.87 for sleepwalking, and 0.87 for sleep terrors).
Conclusions
The International Classification of Sleep Disorders, Third Edition criteria are adequate for a reliable diagnosis of disorders of arousal. Further validation studies, confirming DOA diagnosis with video polysomnography, are needed to investigate the predictive value of ICSD-3 criteria.