01.12.2015 | Research article | Ausgabe 1/2015 Open Access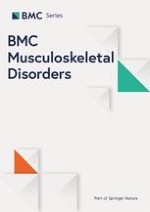 Interspinous process stabilization with Rocker via unilateral approach versus X-Stop via bilateral approach for lumbar spinal stenosis: a comparative study
Zeitschrift:
Autoren:

Weimin Huang, Zhengqi Chang, Jingtao Zhang, Ruoxian Song, Xiuchun Yu
Wichtige Hinweise
Competing interests
The authors declare that they have no competing interests.
Authors' contributions
WH, XY contributed to the conception and design of the study. WH,ZC and RS acquired and analyzed the data. WH and JZ measured the radiographic changes. WH and XY contributed to the interpretation of the data. WH wrote the first version of the manuscript, and all other authors revised it critically for important intellectual content. All authors read and approved the final manuscript. All authors agree to be accountable for all aspects of the work.
Abstract
Background
Rocker is a novel interspinous process stabilization (IPS) that can be installed via unilateral approach by virtue of its unique design. This controlled study compared the clinical outcome of Rocker versus X-Stop to access the feasibility and validity of the novel IPS.
Methods
From March 2011 to September 2012, 32 patients treated with Rocker and 30 patients treated with X-Stop were enrolled in this study. The primary clinical outcome measure was Oswestry Disability Index (ODI) score. The secondary clinical outcome measure was Japanese orthopaedics association (JOA) score. Disc height index (DHI) and foraminal height index (FHI) were measured for postoperative radiographic evaluation. Implant failures were also recorded.
Results
There were 55 patients with complete data during 24 months follow-up. Among the 55 patients, 38 patients underwent IPS in combination with microdecompression. At the final follow-up, 49 patients achieved a minimal clinical important difference (≥8 points ODI improvement). The mean operative time was 53.6 min (range, 30 to 90 min) in Rocker group and 63.1 min (range, 30 to 100 min) in X-Stop group. The average blood loss was 111 ml (range, 50 to 400 ml) in Rocker group and 138 ml (range, 50 to 350 ml) in X-Stop group. ODI score were significantly improved from preoperative 46.8 ± 9.2 to 12.2 ± 2.6 at 24 months follow-up in the Rocker group and from preoperative 45.8 ± 9.8 to 11.8 ± 2.4 at 24 months follow-up in the X-Stop group. JOA score also improved significantly in both groups. The radiographic parameters of DHI and FHI in both groups increased immediately postoperatively, however, the improvements seemed to revert toward initial value during follow-up. Two patients in Rocker group demonstrated implant dislocation within one week postoperatively and one patient in X-Stop group demonstrated implant migration at two months postoperatively.
Conclusions
Preliminary clinical and radiographic outcome was similar between Rocker and X-Stop group. For patients of lumbar spinal stenosis with unilateral nerve root involved or mild-to-moderate central canal stenosis, Rocker offers a new alternative with less damage.