01.12.2018 | Systematic review | Ausgabe 1/2018 Open Access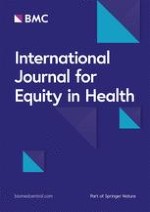 Interventions for preventing or treating malnutrition in homeless problem-drinkers: a systematic review
Zeitschrift:
Autoren:

Sharea Ijaz, Helen Thorley, Katie Porter, Clare Fleming, Tim Jones, Joanna Kesten, Loubaba Mamluk, Alison Richards, Elsa M. R. Marques, Jelena Savović
Abstract
Background
Excessive drinking leads to poor absorption of nutrients and homeless problem-drinkers often have nutritionally inadequate diets. Depletion of nutrients such as vitamin B1 can lead to cognitive impairment, which can hinder efforts to reduce drinking or engage with services. This review aimed to assess effectiveness of interventions designed to prevent or treat malnutrition in homeless problem-drinkers.
Methods
We systematically searched nine electronic databases and 13 grey literature sources for studies evaluating interventions to improve nutrition in homeless populations, without regional or language restrictions. Screening for inclusion was done in duplicate. One reviewer extracted data and assessed risk of bias, and another checked the extractions. Primary outcomes were nutrition status/deficiency, liver damage, and cognitive function. Secondary outcomes included abstinence, comorbidities, resource use, acceptability and engagement with intervention. Results were synthesised narratively.
Results
We included 25 studies (2 Randomised Controlled Trials; 15 uncontrolled before and after; 7 surveys; 1 case-control). Nine studies evaluated educational and support interventions, five food provision, and three supplement provision. Eight studies evaluated a combination of these interventions. No two interventions were the same, and all studies were at high risk of bias. Nutritional status (intake/ deficiency) were reported in 11 studies and liver function in one.
Fruit and vegetable intake improved with some education and support interventions (
n
 = 4 studies) but not others (
n
 = 2). Vitamin supplements appeared to improve vitamin deficiency levels in the blood (
n
 = 2). Free or subsidised meals (
n
 = 4) and food packs (
n
 = 1) did not always fulfil dietary needs, but were usually considered acceptable by users. Some multicomponent interventions improved nutrition (
n
 = 3) but acceptability varied (
n
 = 3). No study reported cost effectiveness.
Conclusions
The evidence for any one intervention for improving malnutrition in homeless problem-drinkers was based on single studies at high risk of bias. Various food and supplement provision interventions appear effective in changing nutritional status in single studies. Educational and multicomponent interventions show improved nutritional behaviour in some studies but not others. Further better quality evidence is required before these interventions can be recommended for implementation. Any future studies should seek the end user input in their design and conduct.