01.12.2016 | Research article | Ausgabe 1/2016 Open Access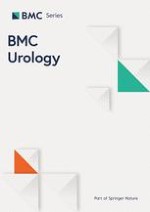 Intestinal metaplasia of the bladder in 89 patients: a study with emphasis on long-term outcome
Zeitschrift:
Autoren:

Zhixiang Xin, Chenhui Zhao, Tao Huang, Zhaohui Zhang, Chenlong Chu, Caifeng Lu, Min Wu, Wenlong Zhou
Abstract
Background
Intestinal metaplasia of the bladder is an uncommon glandular proliferation. We examined a large series of intestinal metaplasia for the clinicopathological features and discuss the significance of this lesion.
Methods
All cases of intestinal metaplasia diagnosed in our institution between 1990 and 2014 were retrospectively reviewed. Patients with a history of urothelial carcinoma or concurrent adenocarcinoma were excluded. Patient characteristics, pathological features, and follow-up outcomes were obtained.
Results
We identified 89 patients with intestinal metaplasia during this period. Sixty seven were men and 22 were women. Mean age at diagnosis was 57 years (range 23–81). Common presenting complaints included haematuria (73 cases), mucosuria (13 cases), and irritative voiding symptoms (seven cases). The majority of intestinal metaplasias located on or near the trigone (67 cases). Eighty-two patients underwent transurethral resection of their lesions. Partial cystectomy was performed in the remaining seven patients. The mean follow-up of 78 patients was 105 months (range 6–255). One case of bladder adenocarcinoma was indentified 6 months later. The initial histologic findings had revealed intestinal metaplasia with severe dysplasia. Four patients presented recurrence during the follow-up, and this occurred 9, 13, 17 and 24 months after the surgery.
Conclusions
Although intestinal metaplasia can be treated effectively by transurethral resection in most cases, its potential malignancy need to be taken into consideration after the evidence of recurrences and its association with bladder adenocarcinoma. Therefore, it is necessary to perform close surveillance following the surgery, particularly in patients with dysplastic changes.